PROJECT DETAILS
Project: Site safety & Security, West Gate Tunnel
Customer: CPB Contractors and John Holland (CPBJH JV)
Location : Yarraville VIC 3013
Time period: March 2020
Products used: DB80 Deltabloc PCBs (Precast Barriers)
The Project
The West Gate Tunnel project is a partnership between the Victorian Government and Transurban and is being built by a joint venture comprising CPB Contractors and John Holland (CPBJH JV).
This expansive project aims to deliver an alternative to Melbourne's busy West Gate Bridge. It will provide a much needed second river crossing, quicker and safer journeys, and remove thousands of trucks from the city's residential streets.
Fortress Fencing has already provided a range of solutions to this project including most recently, hundreds of DB80 Deltabloc barriers fitted with anti-gawk screens.
Within the East Zone of this project lies the old fish market site where piling works have been taking place since early May 2019. To cordon off the area, the project managers required a strong and effective traffic rated barrier, combined with anti-gawk screens for privacy and security.
The Solution
The Deltabloc DB80 concrete barrier was the ideal solution for CPBJH JV. Fitted with galvanized anti-gawk screens, the barriers have been used across a number of applications, including surrounding the Fish Market piling sites and entry points as seen in these images.
When covered in shade cloth, the anti-gawk screen provides an effective visual barrier for added privacy and security, along with the safety benefits of the DB80.
The Fortress Fencing DB80 precast concrete barrier is approved to minimise impacts from vehicles travelling up to 100km/hr on Victorian roads. The Deltabloc DB80 units are demonstrated to meet the requirements of MASH test level TL-3. This means a 2270kg Ute travelling at 100km/hr impacting the barrier at an angle of 25 degrees achieves a dynamic deflection of 1.44 metres.
The DB80 is characterised by a highly efficient coupling method without any screws, plus it also has patented damping devices at the element joints. It is available in either 2, 4 or 6 metre lengths, with a unique design that allows for fast truck-mounted crane installation.
Deltabloc barriers have been used on major projects across the country and continue to provide safe, reliable deflection of out of control vehicles.
In this case, our simple yet effective anti-gawk screens have been added. These are available in a variety of styles, including top or side mounted, and straight or angled. They are perfect for both anti-gawk and anti-debris applications and can be fabricated to fit different sized Deltabloc barriers.
We also supplied 17 PORTABOOM mobile portable boom gates to the West Gate Tunnel site. These were used to control and manage both pedestrian and vehicular access at key points throughout the area.
Project Gallery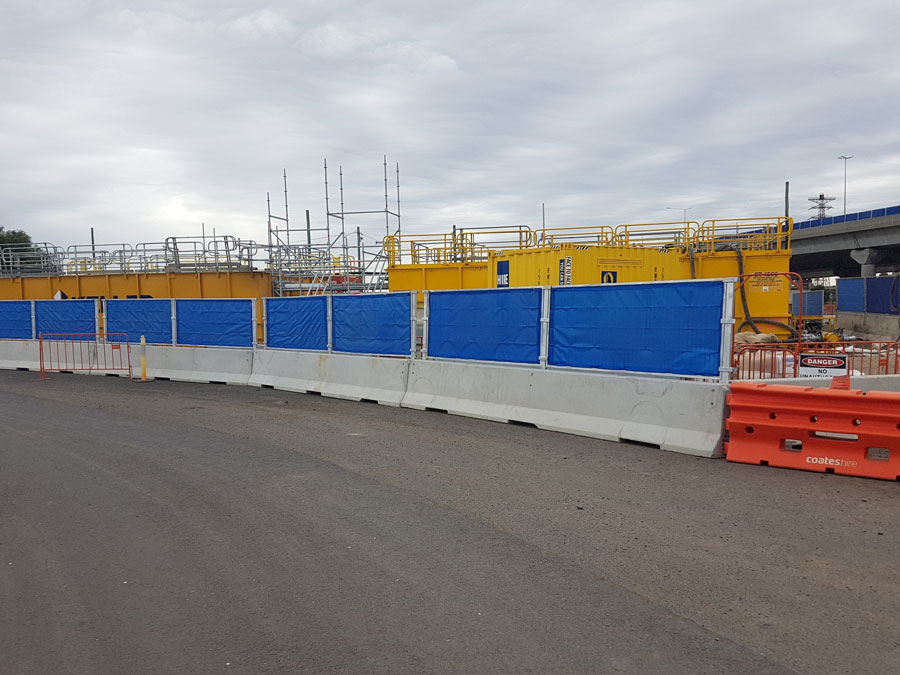 Why Fortress Fencing?
We're more than just a temporary fencing shop.
Fortress fencing works closely with you
To ensure you get the best service, most competitive rates,
and on-time delivery.