PROJECT DETAILS
Customer: Level Crossing Removal Project
Time period: 2020 – Current
System Used: Lo-Ro water cable barriers
The Project
The level crossings at Manchester Road, Mooroolbark and Maroondah Highway, Lilydale are being removed by building rail bridges over the roads. This is part of the extensive Level Crossing Removal project that is occurring across Victoria.
Two new elevated stations will be built at Lilydale and Mooroolbark and a new multi-deck car park will also be built at Mooroolbark Station, which will contribute to doubling car parking to 900 spaces, making it easier for commuters to find a park.
More than 53,000 vehicles travel through these level crossings each day where the boom gates can be down for up to a quarter of the morning peak. There has been one collision and five near misses across these two sites in the past ten years. Removing level crossings will make Victoria's streets safer for all.
Early works started in May 2020 and major construction is now underway.
The Challenge
The contractor required a water filled safety barrier that was compliant with VicRoads requirements. The barrier needed to be strong, reliable and approved for use on Victoria's road network, as much of the construction was along roads or along the rail corridor.
The Solution
The LoRo barrier fit the bill, and the contractors utilised many LORO units across the project.
Lo-Ro water filled barriers are exclusive to Fortress Fencing, with a MASH rating of TL-1 and TL-2 (70km/hr). It has a stout design for maximum durability and has the best TL-2 deflection in its class in the Australian market, plus shorter clear zones and shorter minimum length.
Relatively new to the Australian market, the Lo-Ro water cable barrier is approved to MASH TL2 and designed for applications where low deflection is critical. Compared to competitor products on the market, it has the best TL-2 deflection, shorter clear zones and shorter minimum length, saving you money and installation time whilst still providing excellent protection up to 70km/hr.
Plus, the Lo-Ro has multi-speed deflection having successfully been tested to MASH TL-1.
The Lo-Ro complies with AS/NZS 3845 and is Austroads approved, as well as being approved for use by VicRoads (and many other road authorities) to 70km/hr.
Call Fortress Fencing now to get a fast quote on water barriers in Melbourne.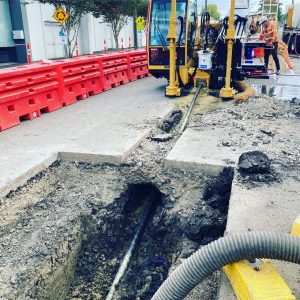 Why Fortress Fencing?
We're more than just a temporary fencing shop.
Fortress fencing works closely with you
To ensure you get the best service, most competitive rates,
and on-time delivery.