PROJECT DETAILS
Project: Macdonaldtown Gasworks Remediation
Product Used: DB80 Deltabloc crash barriers fitted with anti-debris screens
Location : Erskineville NSW 2043
Time Period: Installed late 2014
Customer: Thiess Contractors (now Ventia)
Install Length: 312m
Barrier Length: 6m
The Project
After decades of use as a gasworks operation, the soil and groundwater at this site near Macdonaldtown station had become contaminated. The historic site housed a gasworks operation from 1892 until 1958 which produced gas for railway carriages and the Eveleigh Railway Workshops.
Over the decades, however, the waste has contaminated the soil and groundwater. Following an Environmental Assessment, RailCorp received approval to remediate the site.

RailCorp manages the site which stretches over 7500 square metres of land at Erskineville.
Workers constructed a weatherproof enclosure to cordon off the environmental control area. Over the course of the project, over 36,000 tonnes of hazardous materials would be removed from the area.
The work was primarily within this enclosure and had no impact on the operation of trains in the area. Yet, with additional heavy worksite vehicles frequenting the area, the project managers required traffic rated precast concrete barriers to delineate traffic on the access road which ran alongside the neighbouring rail corridor.
The Solution
After discussing a hire vs buy cost comparison, the team at Thiess saw a significant advantage in the fixed cost of purchase. As opposed to the unknowns of hire, Thiess chose to buy precast concrete barriers.
Fortress Fencing supplied 312 linear metres of Deltabloc DB80 barriers fitted with anti-gawk screens. The precast concrete barriers measure 6 metres and are TL-3 approved to 100km/hr on NSW roads. They Austroads and RMS approved as a crash rated road barrier.
For this application, Thiess required the addition of an anti-gawk panel to each of the precast concrete barriers. With the addition of shadecloth to the anti-gawk screens, these provided both security and debris control.
Anti-gawk panels are constructed from a strong galvanized mesh. Approved to Australian Standards AS4687, they are easily installed using star posts, pickets or dynabolted posts.
Project Gallery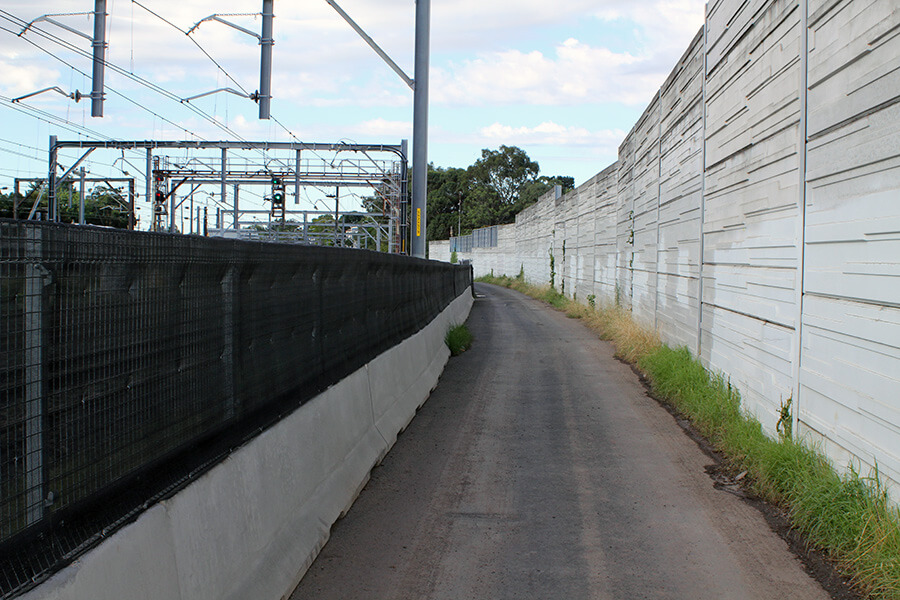 Why Fortress Fencing?
We're more than just a temporary fencing shop.
Fortress fencing works closely with you
To ensure you get the best service, most competitive rates,
and on-time delivery.