PROJECT DETAILS
Project: Sydney Metro
Customer: John Holland CPB Ghella (JHCPBG) Joint Venture
Location: Blues Point, NSW
Time period: August 2018
Products used and Length: DB80 Concrete Crash Barrier with Anti-Gawk Screens / 68 metres
Quantity: 17 x 4-metre long Concrete Barriers and 17 x Anti-Gawk Screens
The Project
Sydney Metro is Australia's biggest public transport project to date. The Stage 2 City & Southwest Project will deliver seven new train stations, resulting in a rail system spanning 30 kilometres from Chatswood to Bankstown. More than 15 kilometres of it runs directly under Sydney Harbour and through the city to Sydenham via a twin tunnel rail line. Tunnelling commenced in 2018 on the twin tunnels that extend from Chatswood to Sydenham. Throughout the build, specialised boring machines will be used to tunnel under the city's bustling CBD, and a dedicated site set up to enable the tunnel boring machine's cutting heads and shields to be removed at set intervals. This temporary site is located in North Sydney's Blues Point Reserve.

For the duration of the project the site will be used for the cutter head and shield removal events, each of which can take up to a month to complete. Four of these removal events are slated to take place at Blues Point. The site will also be used for diverting utilities such as water, sewer lines, gas and electricity, and will act as a hub for additional excavation works.

With construction activities including excavating the tunnel shafts with rock hammers and blasting, along with the dismantling of the tunnel boring machine, a host of massive plant and equipment would be located on site. Therefore, safety of workers was a key priority, as was security of the temporary site. Standard site sheds and amenities formed part of the area, along with storage for excavators and other
equipment.

With a boundary line pressing up against the waterline of exclusive Lavender Bay, safe pedestrian thoroughfare outside the edges of the site was also a factor.
The Solution
Fortress Fencing supplied John Holland CPB Ghella (JHCPBG) Joint Venture with 68 metres of Deltabloc DB80 Concrete Barriers to the coastline at the temporary retrieval site. These concrete barriers are surprisingly light, flexible and rigid, as well as being RMS approved to minimise impacts from vehicles travelling up to a blistering 100km/hr. Available in 2, 4 and 6 metre lengths, their unique design allows for fast truck-mounted crane installation.
Anti-Gawk Screens were also installed on top of the Deltabloc concrete barriers. These galvanized mesh panels reduce the visibility of work site activities to pedestrians and the general public, and help to prevent trespassing.

The Stage 2 portion of the project is set to be completed in 2024.
Product Specifications:
Length: 4000 mm
Height: 800 mm
Weighs: 520kg per metre
Rated to 100km/hr in NSW & VIC / 80km/hr in QLD
Project Gallery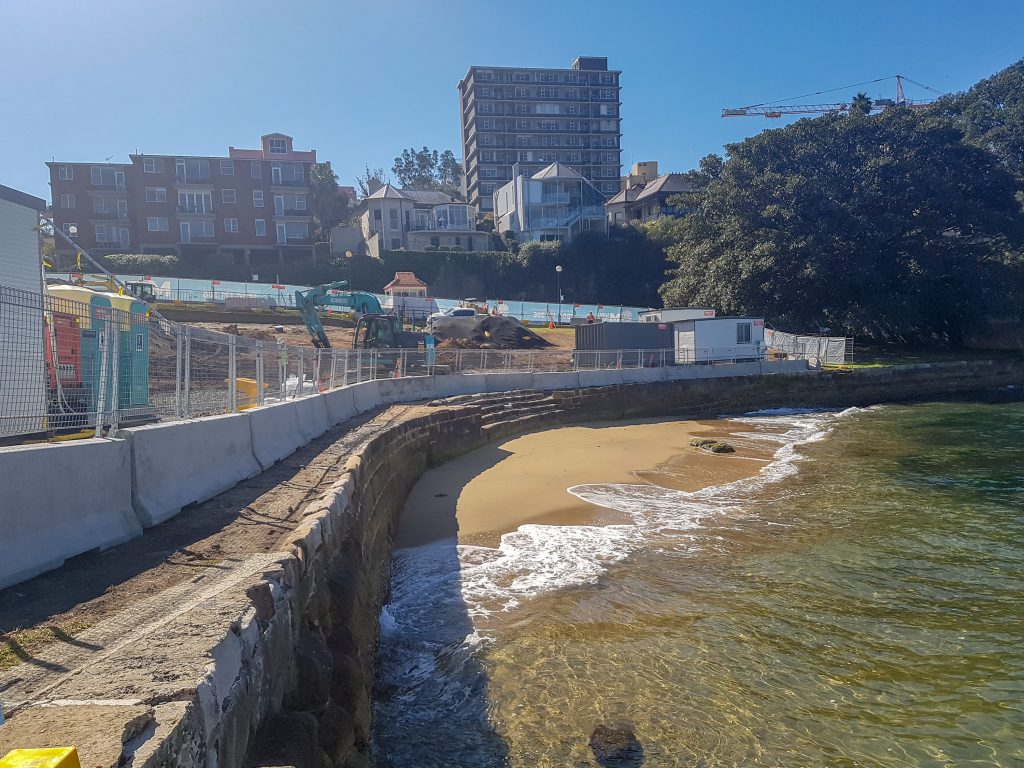 Why Fortress Fencing?
We're more than just a temporary fencing shop.
Fortress fencing works closely with you
To ensure you get the best service, most competitive rates,
and on-time delivery.