Concrete jersey kerbs are an all-round workhorse when it comes to work site protection.
But – who you source them from makes all the difference.
Major contractors working on some of the country's biggest infrastructure projects look to Fortress for reliable delivery of jersey kerbs to their projects.
In this article, our barrier expert Ben Lorne explains how contractors can benefit from the fiercely customer-centric approach that Fortress Fencing offers to its clients.
Q: What advantages can Fortress Fencing offer over other concrete barrier suppliers?
A: Basically, we care. Not just about landing a sale, but about keeping customers happy and building strong relationships so we see the same contractors coming back time and time again.
Because we take a long term view of serving you as a customer, myself and a lot of the team here routinely go out of their way to make things happen. We've got full support from management that if something's going to benefit our customers, we can do it! Obstacles and red tape are cleared out of the way and we're often able to make things happen faster, cheaper and better than our competitors.
This pretty much sums up the Fortress approach and is one of the reasons we're one of the premier suppliers of concrete jersey barriers in Australia. It might sound a bit cheesy but we really do live by the 'consider it done' slogan.
Q: Wouldn't it be cheaper to hire concrete barriers?
A: This question often comes up from contractors, and it almost always comes down to the question: 'how long is your project going to run for?'
If you're working on something for two weeks, go and hire barriers because it makes zero sense to sink that outlay into a short term project.
However, for long term projects, there's always a tipping point where it gets cheaper to buy your barriers. This is a bit of a 'how long is a piece of string' thing: that breakpoint is going to hinge on project length, number of barriers, how many projects you typically do annually (and therefore how you're going to spread that cost out). When you think of it in terms of buying an asset that you can use again and again, the cost per project comes right down. 
Another thing to think about is our ability to put a buy back agreement in place, so that you can offload the barriers back to us at the end of an agreed term.
That's all a little vague but if you want some specifics on your situation, give me a call and we can talk through the options in a way that's relevant to your business.
Q. Being such a heavy item, freight on concrete barriers can be prohibitive – how does Fortress Fencing help customers address this cost?
A. Recently, we were able to use a bit of out of the box thinking and save a customer in Cairns $250K in freight costs.
Contractors from the John Holland / Seymour Whyte team were working on the Bruce Highway duplication up north, and before they came to Fortress Fencing they were weighing up the cost of two kilometres of concrete barriers shipped from Sydney.
The freight estimate for these barriers – 50 truckloads! – came in at over 250 grand. They rejected this of course, but still needed the barriers, so the challenge was how to get them on site without the eye-watering shipping cost.
We ended up with a solution that saw our main factory shipping the barrier moulds to a local Cairns business. This business could guarantee consistency and quality, casting 2000 linear metres of barriers to our exact specs.
Naturally, the freight to site came down to a much more reasonable price from a local Cairns business rather than shipping them all the way from Sydney.
It's these kinds of creative solutions that Fortress Fencing really excels at, and one of the reasons we win a lot of complex projects. Get in touch if you are working on a regional or remote project and freight costs are driving you up the wall!
Q. Can some contractors get away with plastic water filled barriers instead of concrete?
A. As you'd expect, it depends on the application. We're not going to sell customers something they don't need just to make a quick buck, so if there's a cheaper or easier alternative we'll definitely provide that option to our customers.
Once upon a time water filled barriers were only for the most basic low-speed applications, but these days there are units on the market like the Lo-Ro and the Armorzone that are rated to reasonable speeds, meaning they can be used on certain road projects.
Concrete barriers are the gold standard, but if a water filled barrier will do the job and it meets the project specs, then why not save yourself some coin? We can give you spec sheets for all our barriers so you can weigh up the pros and cons of each for your own situation.
Q. How much do concrete jersey kerb barriers cost?
A. Concrete barriers aren't as expensive as you might think, especially for contractors working on long term projects.
When you get a price on our concrete crash barriers, we break it down into the barriers themselves, freight, and unloading on site, which is typically done with a Franna or Hiab.
Customers who want to unload with their own equipment can save a bit here, and likewise, if your project is in metro Sydney, Melbourne or Brisbane – or any other metro centre – freight isn't going to be excessive, as Fortress Fencing has warehouses in all capital cities.
Plus, looking at a fleet of concrete barriers as an asset means you can write them off if your purchase comes under the government's instant asset write off threshold. This is currently $150K… you can get a shedload of barriers for $150K! 
(Note that this tax threshold fluctuates – last year it was only $30K, so always double check with the bean counters in your office or with the tax department if you're looking at going down this route.)
Gallery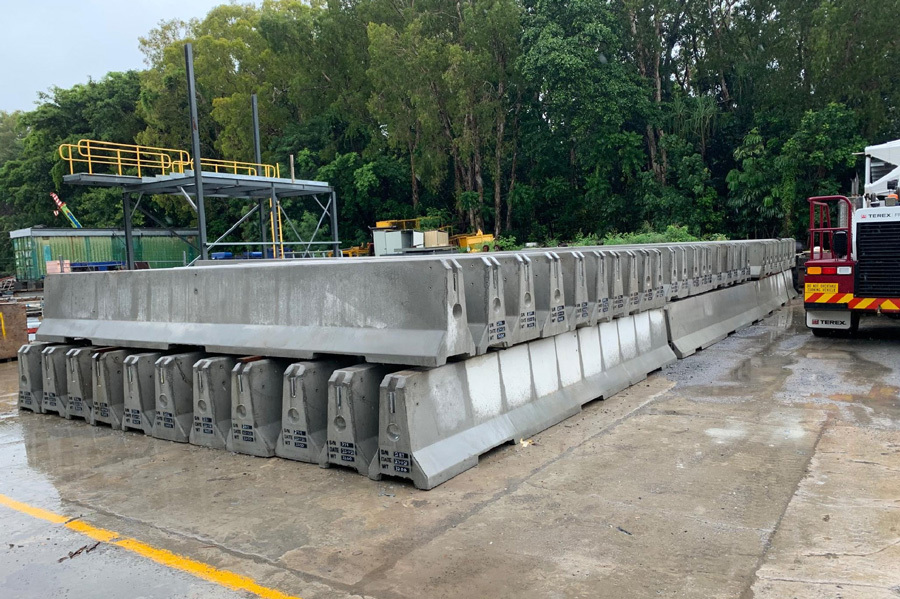 Why Fortress Fencing?
We're more than just a temporary fencing shop.
Fortress fencing works closely with you
To ensure you get the best service, most competitive rates,
and on-time delivery.