PROJECT DETAILS
Project: Sydney Metro City & Southwest
Customer: Sydney Metro
Location: Marrickville, NSW
Products used and Length: Trafix 2000 water filled barriers / 264 metres
Quantity: 132 barriers
The Project
The extensive Sydney Metro Project has been underway for a number of years. Stage 2 consists of the City & Southwest project, delivering seven new train stations between Chatswood and Bankstown. This includes twin 15km tunnels running under Sydney harbour. Stage 2 of the Sydney Metro project is set to be completed in 2024.

Supporting the construction operations are the Marrickville and Chatswood dive sites. These areas were used to launch two tunnel boring machines (TBMs) and support the construction of the precast concrete lining components for the tunnels.

Fortress Fencing supplied Sydney Metro with 264 metres of Trafix 2000 Waterfilled Barriers to the Marrickville and Chatswood dive sites. The water filled barriers provided a safe barricade to separate workers and moving traffic on site.

During the early stages of the project, the site had plant, equipment, vehicles and workers all in close proximity. Although vehicles were moving at relatively slow speeds, it was critical to demarcate the pedestrian-only zones to keep workers safe on site. The project managers required a highly visible and lightweight barricade to create no-go zones. The barriers would need to be flexible and easily transportable in order to adapt to the ever-changing needs of the site.
The Solution
For this project, Sydney Metro utilised 132 Trafix water filled barriers to create bright and easily visible delineation on site. When filled with water, each Trafix barrier weighs 327kg making it sturdy and resistant to light impacts. The barriers were connected to create over 260 metres of strong yet lightweight fencing.

The Trafix 2000 is an innovative Australian designed water filled barricade that has been built for the toughest conditions. It features moulded plastic male and female locking lugs on each end making it easy to fix many modules together. Strong UV protected polyethylene gives added durability against the harsh Australian sun. Insect proof lights and signage can be attached to give 24-hour traffic control.
Project Gallery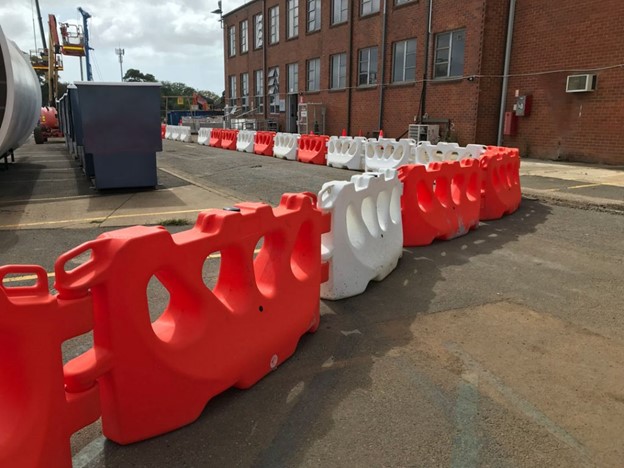 Why Fortress Fencing?
We're more than just a temporary fencing shop.
Fortress fencing works closely with you
To ensure you get the best service, most competitive rates,
and on-time delivery.