PROJECT DETAILS
Project: Passenger Crowd Control
Customer: Gold Coast Airport
Time period: October 2019
Products used: Trafix 2000 Water Filled Barriers
The Project
The domestic terminal at Queensland's Coolangatta airport has taken advantage of the lightweight and versatile Trafix 2000 pedestrian barrier as a security and safety measure. Positioned in rows that funnel passengers safely along walkways, these simple yet sturdy barriers are ideal for preventing passengers from wandering too far from the pedestrian walkway as they exit the gate to board their plane. They have been positioned in such a way as to encourage orderly queueing, guiding passengers to ensure they follow the pavement markings.
Trafix 2000 barriers are made from rotomoulded plastic that is easy to fill with water once positioned. When full, they weigh over 320kg, ensuring they cannot be moved accidentally or bumped by small vehicles such as baggage trailers on the runway.
The barriers also serve an important safety purpose by separating people and vehicles that service the planes, such as refueling trucks.
The Solution
Fortress Fencing supplied over 300 Trafix pedestrian barriers to the airport for this purpose, increasing safety for patrons and at the same time eliminating a hazard for ground crew.
Fortress Fencing's Trafix pedestrian barrier is an Australian designed and manufactured water filled barrier that has been built for tough conditions.
Available in highly visible red and white, the strong UV-protected polyethylene gives added durability against the harsh Australian sun. Simple and lightweight to install when empty, each module weighs just 20kg before filling. After installation and once filled with water, each barrier weighs 327kg, providing a significantly stable and secure barrier.
With rounded corners and built-in handles that make it easy for workers to handle, plus a simple interlocking pin and hole system to join them together, these simple barriers are fast and easy to install.
The barrier is made from recyclable polyethylene and is available in 2 metre long modules. It is ideal for use in pedestrian delineation applications such as this, as well as for cordoning off no-go zones, drop-offs and pits on work sites. Lights and signage can also be attached, transforming the barriers into a 24-hour traffic control product.
Project Gallery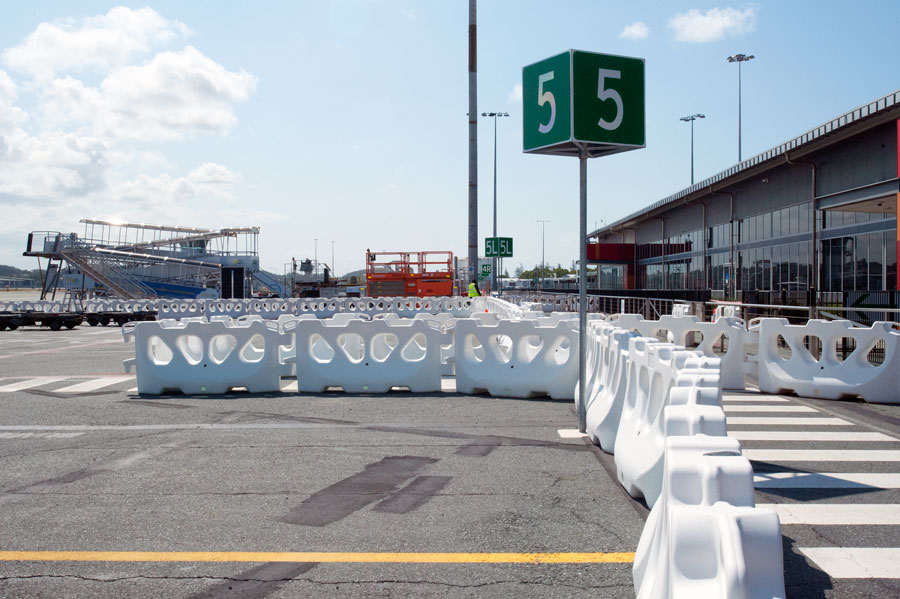 Why Fortress Fencing?
We're more than just a temporary fencing shop.
Fortress fencing works closely with you
To ensure you get the best service, most competitive rates,
and on-time delivery.