PROJECT DETAILS
Project: West Gate Tunnel
Customer: CPB John Holland Joint Venture
Location: Melbourne, VIC
Products used: 2,221 Trafix Waterfilled Barriers
Fortress Fencing has been supplying the West Gate Tunnel Project with consumables, barriers and temporary fencing throughout the life of the project, including the Trafix waterfilled barriers.
Here in the West Gate Tunnel's West Zone, hundreds of waterfilled barriers are being utilized around the worksite to direct traffic along access roads and demarcate exclusion zones.
Waterfilled barriers for parking areas
Additionally, the CPBJH JV team have used the versatile water barriers to outline a temporary parking area, using them to surround exposed pipes and other hazards in the car park. By adding wheel stops to mark out car parking spaces, this empty area has been turned into a useful staff parking lot.
Using Trafix barriers to identify edges of the parking area ensures that there is a bright and highly visible barrier between the work zones, and the pedestrian walkways – something that is vitally important when there is a high volume of different vehicles moving around the site at different times.
About the Trafix Water Barriers
The Trafix water barriers are the perfect solution for this project, being lightweight and easy to move when empty, but providing a stable and effective barrier when full. This means the WFB's can be adapted to the worksite as it shifts and changes during the course of the project.
Project Gallery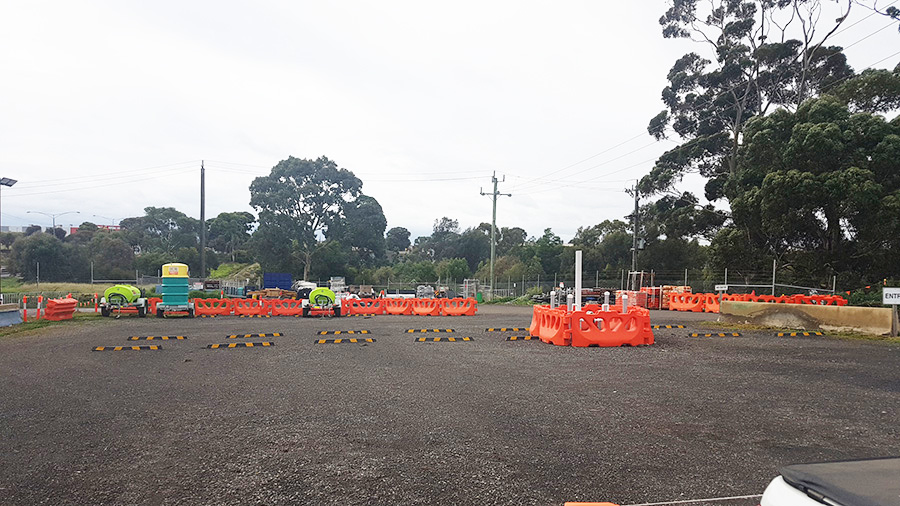 Why Fortress Fencing?
We're more than just a temporary fencing shop.
Fortress fencing works closely with you
To ensure you get the best service, most competitive rates,
and on-time delivery.