PROJECT DETAILS
Project: The Gardens Apartments
Location: 68-70 The Horsley Dr, Carramar, NSW
Time Period: August 2018
Products used and Length: Trafix 2000 Water Filled Barriers / 25 metres
Quantity: 12 Barriers
The Project
Carramar is an established area in south west Sydney that is currently undergoing urban renewal, and the Gardens Apartments project is currently under construction. The Gardens Apartments, located in the heart of Carramar, has been designed to offer a fresh and modern look to the area. The build comprises a three level residential apartment complex with units ranging from 1 to 3 bedrooms, two levels of underground parking, and an additional level for commercial tenancies.
The Gardens Apartments will also feature a rooftop garden terrace for outdoor relaxation for tenants. The plans include a total of 29 residential units and 4 commercial tenant spaces.
Slated for development along a busy residential street, the developers Raland Construction were acutely aware of impacts on the surrounding pedestrian flow and on vehicles during the excavation and build stages.
With plywood hoarding installed to secure the site at street level, a significant amount of footpath space was blocked off, and Raland Construction were seeking a barrier solution to keep pedestrians safe from passing traffic along the temporarily constricted path.

Conversely, the barrier needed to prevent pedestrians from encroaching into traffic.
The Solution
Fortress Fencing supplied Raland Construction with 25 metres of Trafix 2000 Waterfilled Barriers. This provided a safe barrier between pedestrians and traffic along the road.
The Trafix 2000 Waterfilled Barrier is an innovative Australian designed and manufactured barrier that has been built for the toughest conditions. Available in highly visible red and white, the strong UV-protected polyethylene gives added durability against the harsh Australian sun.
Simple and lightweight to install when empty, each module weighs just 20kg before filling. After installation and once filled with water, each barrier weighs 200kg, providing a significantly stable and secure barrier made from material that is strength tested to Australian Standards. Rounded corners make it safe and easy for workers to handle, and a simple interlocking pin and hole system is moulded into each barrier module, resulting in a one-piece unit with no loose pins.
The water filled barrier is made from eco-friendly recyclable polyethylene and is available in 2 metre long modules. It is ideal for use in carparks and for pedestrian delineation applications such as this, as well as for cordoning off no-go zones, drop-offs and pits on work sites.

Additionally, insect proof lights and signage can be attached, transforming the barriers into a 24 hour traffic control product.
Product Specifications:
Length: 2100 mm
Height: 900 mm
Width: 500 mm
Weight: 20 kg (empty), 200 kg (full)
Material Strength Tested to AS/NZS 4766:2006
UV20 Protection to ASTM D2565
Project Gallery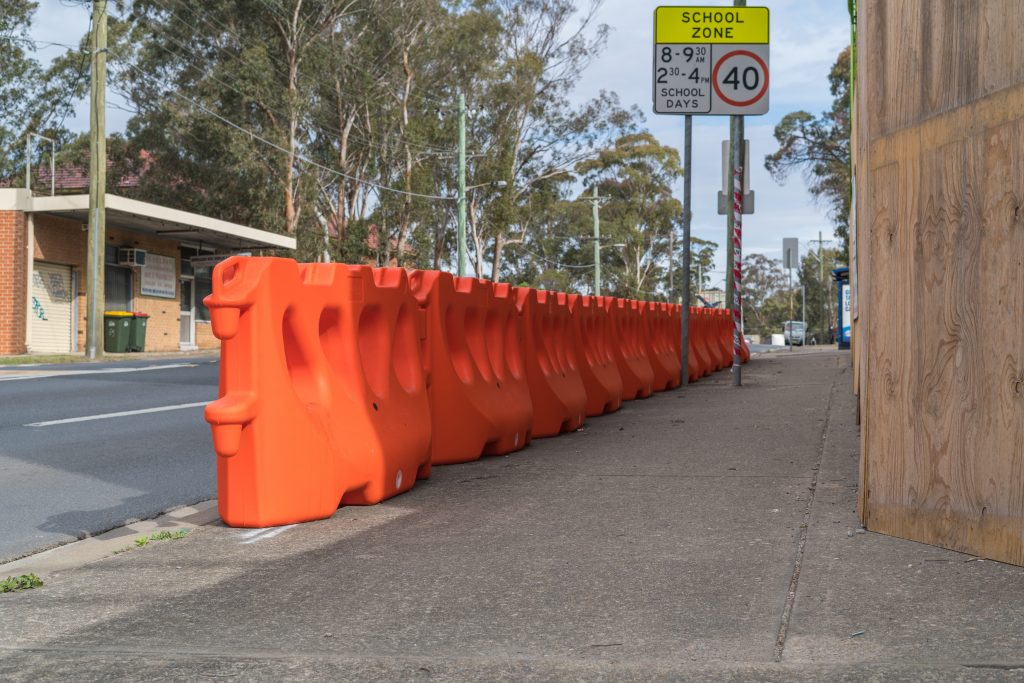 Why Fortress Fencing?
We're more than just a temporary fencing shop.
Fortress fencing works closely with you
To ensure you get the best service, most competitive rates,
and on-time delivery.