PROJECT DETAILS
Project: The Star Redevelopment
Customer: Built
Location: Pyrmont, NSW
Products used and Quantity: Crowd Control Barriers / 30 barriers
The Project
Sydney's landmark casino and entertainment precinct, The Star, is currently undergoing extensive renovations. Along with a new bar and luxury retailers, the work includes a world first permanent indoor light sculpture and interactive digital art foyer, valued at $22 million.
Built are set to undertake significant internal works at the casino whilst the majority of the precinct was open for business. With selected internal zones roped off for construction, the regular entrance ways needed to be re-routed to ensure the public was kept safe and away from the work areas.
For this, Built required a simple temporary fencing solution that could be easily moved to accommodate changing needs on site. The fencing needed to be neat and tidy to ensure the construction activities had minimal impact on the luxury venue.
A lightweight pedestrian fence was identified as an ideal solution that would satisfy Built's requirements.
The Solution
Fortress Fencing supplied 30 steel crowd control barriers for this project, which created easily recognisable off-limits areas whilst still maintaining a neat and professional street frontage.
Built used approximately 70 metres of Fortress Fencing's crowd control barriers placed around the closed entrance ways. These barriers measure 2.3 metres long x 1.1 metre high, and link together easily with a simple pin and lock system. The removable feet mean that crowd control barriers can be stored flat for transport, taking up minimal space.
The low intrusion feet also reduce the chance of pedestrian trips and falls, and they come with pre-drilled holes for bolt-down applications if necessary.
Fortress Fencing's crowd control barrier is fully welded, hard wearing, lightweight and easy to install. Fortress Fencing has large stocks of temporary fencing and crowd control barriers in Sydney, Melbourne, Perth, Adelaide, Brisbane and regional centres.
Project Gallery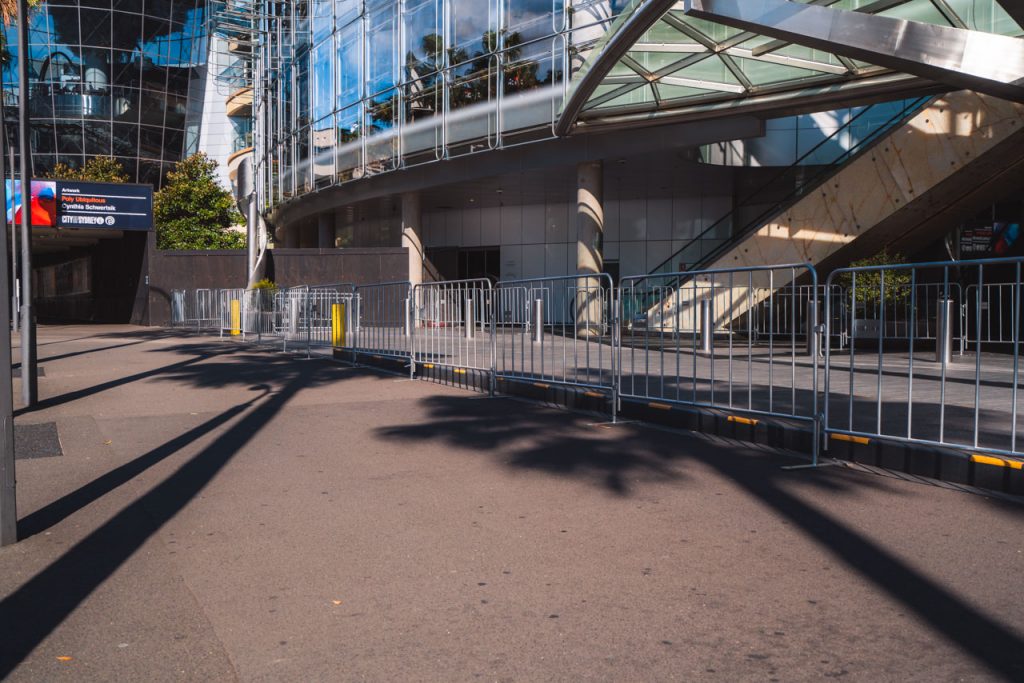 Why Fortress Fencing?
We're more than just a temporary fencing shop.
Fortress fencing works closely with you
To ensure you get the best service, most competitive rates,
and on-time delivery.