PROJECT DETAILS
Project: Westconnex Rozelle Interchange
Customer: CBP John Holland JV
Location: Rozelle, NSW
Products used: Orange crowd control barriers
The Project
Construction of the Westconnex M4-M5 Link is underway with contractors John Holland and CPB Contractors working on Stage 2 of the project. This encompasses the Rozelle Interchange and Iron Cove Link. A new underground motorway interchange is being constructed to meet the City West Link and provide an underground bypass of Victoria Road, with links to the future Western Harbour Tunnel.
The Challenge
The Rozelle interchange is mostly underground, at the site of the old Rozelle rail yards. By building the interchange mostly underground, the project will be able to deliver new active transport options in Rozelle and up to 10 hectares of new open space. However, this presents a different set of construction challenges.
Safe walkways needed to be created around the site, which featured numerous hazards such as drop-offs and pits due to the underground excavations.
The project managers needed a simple, lightweight temporary fencing barrier that could be easily moved as construction changed and progressed.
The Solution
Fortress Fencing supplied a large quantity of orange crowd control barriers for workers to mark out safe walkways and thoroughfares.
These simple lightweight yet strong barriers are ideal for sites where fencing needs to regularly move, and the security of a full height temporary fence is unnecessary. The 1.1metre high interlocking panels fit together using a simple pin and lock mechanism, enabling workers to easily create no-go areas on site. They are just as easy to take apart when the fencing needs be moved, with removable feet and a low-profile design that makes for easy storage and transport.
Each 2.3 metre long panel is made from strong galvanized steel, powdercoated with highly visible orange that is ideal for low light applications or night work. The fully welded frame is hard wearing and the powdercoating ensures maximum outdoor life on the job.
The freestanding barriers have low intrusion feet to reduce the chance of pedestrian trips and falls, and are designed for simple visual delineation of hazards.
Fortress Fencing continues to supply a range of orange crowd control barriers and other temporary fencing products throughout many areas of the ongoing Westconnex project.
Project Gallery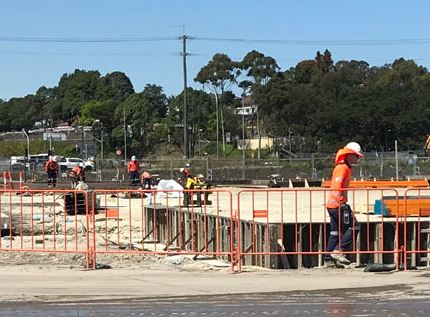 Why Fortress Fencing?
We're more than just a temporary fencing shop.
Fortress fencing works closely with you
To ensure you get the best service, most competitive rates,
and on-time delivery.