PROJECT DETAILS
Project: The Landmark Residential Development
Customer: Walan NSW Pty Ltd
Location: St Leonards, NSW
Time period: July 2019
Products used and Length: XT Edge Protection Fencing / 72 metres
The Project
Significant excavation and groundworks are currently being undertaken in readiness for construction to begin on The Landmark, a striking architecturally designed residential tower in St Leonards. The 46 storey building will soar over 150 metres into the Sydney skyline, making it the tallest in the neighbourhood. The Landmark is situated on the Pacific Highway and is being released by developers New Hope VIMG, with an estimated completion date of 2021.
Walan NSW Pty Ltd has been excavating the site for nearly two years, removing 80,000 cubic metres of sandstone to prepare for construction of the main residential tower. With a range of heavy plant and equipment stationed on site, as well as a team of workers, it was imperative that the site was made as safe as possible by fencing off dangerous areas.
This included surrounding the main lift well pit with fencing, as it dropped 6 metres further into the ground, creating a safety hazard. The project managers needed a temporary yet strong fencing solution to surround the lift core area. Fortress Fencing's edge protection fencing was identified as an ideal solution.
The Solution
We supplied 30 XT Edge Protection panels and 31 matching posts plus fixings to this project.
XT Edge Protection is a modular temporary fence that is bolted in place. Each panel measures 1000mm x 2400mm and is ideal for construction and excavation applications. Constructed from 4mm steel wire grid, it has centres not exceeding 50mm x 50mm, meaning it complies with AS/NZS 4994.1:2009.
Panels also feature a rectangular rolled wire top & bottom with a galvanised kick plate. This solid kick plate helps prevent objects from falling through the panel bottom, thereby reducing the risk of losing objects near the drop-off.
Galvanized 50mm square RHS posts form part of the XT Barrier System. These 1005mm high posts are specially designed to quickly and easily lock the XT Edge Protection Barrier panels in place. This makes installation and removal quick and easy. The RHS post can be fixed to concrete or stone.
Project Gallery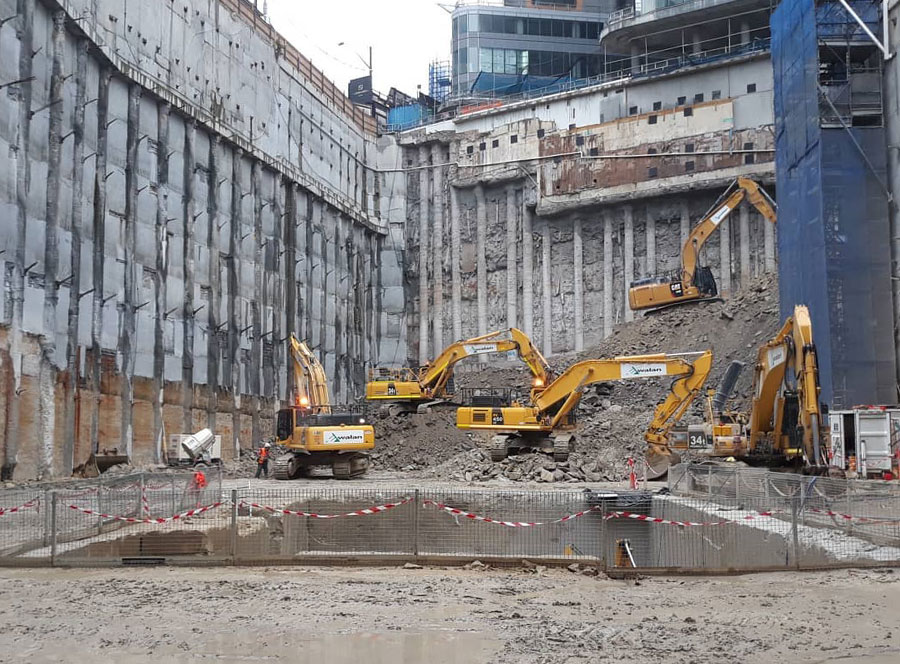 Why Fortress Fencing?
We're more than just a temporary fencing shop.
Fortress fencing works closely with you
To ensure you get the best service, most competitive rates,
and on-time delivery.