PROJECT DETAILS
Project: Metro Tunnel
System used: XT Edge Protection
Time Period: Installed May 2018
Customer: John Holland
Location: Melbourne VIC
Quantity: 48 Edge Protection Panels, 100 Steel Star Posts
Install Length: 115m
The Project
Melbourne's massive Metro Tunnel project is made up of twin 9km rail tunnels, news stations and high capacity signalling. The underground excavation is being delivered by John Holland. This site presented a whole range of safety hazards including drop-offs and ledges that needed to be fenced. Fortress Fencing's XT Edge Protection fencing was specified as a perfect solution to keep workers away from hazardous zones.
The deep excavation required a barrier solution that could separate the hazardous work zone from other peripheral site areas. With heavy plant and machinery at work, the fencing needed to be strong, effective and highly visible in the low light area.
The Solution
Fortress Fencing supplied John Holland with 115 metres of XT Edge Protection fence to create a protective barrier around voids and drop-offs at the busy underground site.
The panels were customised with an orange coloured panel to provided high visibility barrier to deep excavation areas during construction. XT Edge Protection fence is a flexible product with a choice of installation options. Our system uses purpose designed XT Edge Protection posts for easy installation.
Each galvanised welded mesh panel is made from 4mm steel wire that has centres not exceeding 50mm x 50mm, meaning it complies with AS/NZS 4994.1:2009.
The panels also feature a rectangular rolled wire top. Additionally, the rolled wire bottom includes a galvanised kick plate. This solid kick plate helps prevent objects from falling through the panel bottom, thereby reducing the risk of losing objects near the drop-off.
Project Gallery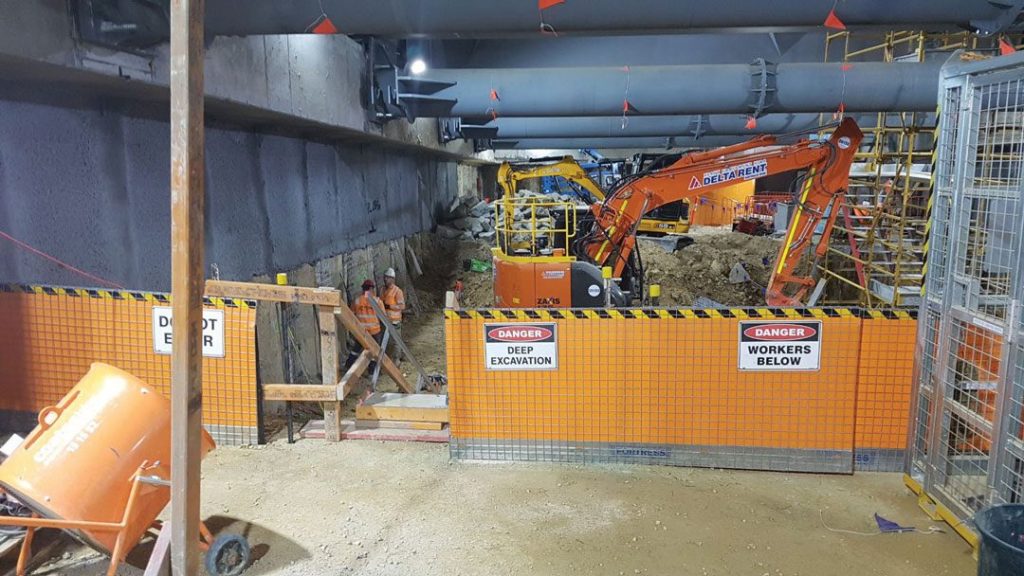 Why Fortress Fencing?
We're more than just a temporary fencing shop.
Fortress fencing works closely with you
To ensure you get the best service, most competitive rates,
and on-time delivery.