PROJECT DETAILS
Project: 48 Eastern Creek Drive
Location: Eastern Creek, NSW
Time Period: Installed June 2018
Products used and Length: 2000 Series Temporary Fencing / 96 metres
Quantity: 40 Panels, 40 Feet and clamps
The Project
Our customer Prime Construction secured a contract to construct six premier industrial units in Sydney's west. The Eastern Creek site was earmarked for 6 new architecturally designed units in this rapidly growing location. These industrial units varied in size from 463 to 1,300 square metres. Additionally, the new industrial units were to feature the latest in warehouse and office design.
Each unit was specifically designed to accommodate 40 foot container access. To that end, the units were designed with 6m wide roller doors and a minimum of 8 metres of internal clearance.
Prime Construction slated the build to begin in mid-2018. Construction in the booming Eastern Creek area is fast paced and Prime needed the project to run to a strict schedule. Before work began, Prime Construction required a perimeter fencing solution to secure the work zone. With a tight budget and critical schedule, the project needed a simple fencing solution that could be delivered within the necessary time frame. To avoid delays, the fencing needed to be available for delivery at the start of the project.

Securing the site was also a key factor, so a fence that would deter trespassing and keep site plant and equipment safe was important.
The Solution
Fortress Fencing supplied Prime Construction with 96 metres of 2000 Series temporary fencing. Erected around the construction site to provide public safety and site security, the fence installation was quick and easy.

The 2000 Series is a lightweight, economical temporary fencing panel. Known for its exceptional value and ease of handling, the 2000 Series is lightweight yet strong. Despite its light weight, it provides exceptional stability with the addition of couplings and concrete feet.
Perfect for civil construction projects, large building and commercial construction, sporting events and environmental protection areas; it can also be used in small quantities to restrict access around safety hazards on site or in the public domain.
Although the 2000 Series is our economy panel, it is still of high quality. The 2000 Series features a galvanised finish and anti-climb construction. Anti-climb mesh is made by creating long 160mm x 60mm gaps in galvanised wire mesh.
For a simple light duty solution, the Fortress 2000 Series is a low cost temporary fencing panel that offers great value. This sturdy fencing panel is easy to install and will keep your site safe. Whilst some fence panels are complicated to set up, a key advantage of the 2000 Series is that it can be installed by just one person. Each panel measures 2.1 metres high.

The quick install process provides immediate security to your site, just as it has for Prime Construction at Eastern Creek.
Project Gallery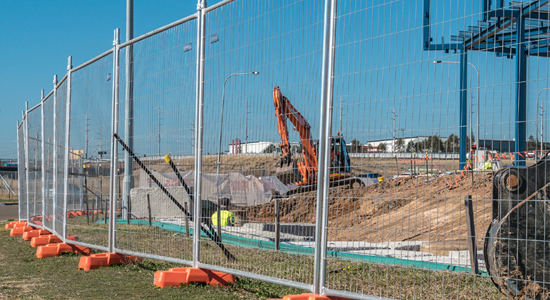 Why Fortress Fencing?
We're more than just a temporary fencing shop.
Fortress fencing works closely with you
To ensure you get the best service, most competitive rates,
and on-time delivery.