PROJECT DETAILS
Project: Sydney Metro Network
Customer: Laing O'Rourke / Select Plant Hire
Location: Sydney Metro Central Station
Time Period: October 2020
Products used: Deltabloc DB80 jersey barriers
The Project
Laing O'Rourke is building the new Central Station as part of the massive Sydney Metro project.
Around 27 metres below ground, the new station joins the existing Central platforms in the centre of Sydney, providing links to the expansive Sydney Metro network and existing inner-city train lines.
Deep excavations are currently underway at the new Chalmers Street entrance, where Select Plant Hire have installed a 60 tonne crane that will perform a number of different functions for the project.
Charged with lifting out the remaining 11,000 tonnes of spoil with 12t capacity skip, the crane will be in place for some time and is also being used to install a precast stormwater chamber and assist with the ongoing reinforced concrete works.
Situated in the heart of Sydney's bustling CBD, this project has a number of challenges to overcome.
The Challenge
It took precision planning by Select Plant Hire to get their 60t Tadano rough terrain crane safely on site in the excavated pit. Set up on a custom made steel deck supported by plunge columns that were installed earlier this year, this installation was designed so that excavation can continue safely below while the crane is operating above.
Soon it will also be used to lift in the excavators so that the contractors can continue excavating down to basement level.
Prior to positioning the crane on site, the team needed to ensure absolute safety for all facets of the installation.
This included using multiple safety barriers placed in a ring around the perimeter of the crane, which would act as additional security if the crane were to move unexpectedly.
The Solution
As part of the bespoke steel deck support, the contractor chose to use the Deltabloc DB80 barriers available from Fortress Fencing to provide extra protection around the edge of the crane pad.
Combined with additional safety measures including Fortress Edge Protection Fencing, this solution protects the massive crane from falling off the elevated deck.
The Deltabloc concrete jersey barriers are typically spotted along roadsides and around construction sites, where their considerable weight and MASH tested credentials make them a popular choice with roadwork crews and civil contractors.
The Deltabloc barriers are available in 2, 4 or 6 metre long units, and in this application, they have been secured with special bolt-down plates for additional security.
For typical roadside crash protection applications, the Deltablocs are not pinned down, which allows the entire run of barriers to move like a snake and absorb impact in the event of a vehicle crash.
Approved for road use up to 100km/hr in NSW and VIC, and 80km/hr in QLD, the Deltabloc DB80 concrete jersey barrier can reduce the risk of a head-on collision as a result of an out of control vehicle crossing over the median strip into oncoming traffic.
These tough safety barriers have also been used to prevent ramming or vehicle entry in busy pedestrian areas; to line industrial driveways to prevent heavy trucks from leaving the pavement, and around hire car lots to prevent theft.
For more information or to get a quote on the Deltabloc concrete barriers for your next project, get in touch with the team at Fortress Fencing.
Project Gallery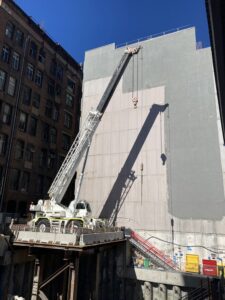 Images used with permission thanks to Laing O'Rourke.
Why Fortress Fencing?
We're more than just a temporary fencing shop.
Fortress fencing works closely with you
To ensure you get the best service, most competitive rates,
and on-time delivery.