PROJECT DETAILS
Project: Westconnex M4 East
Customer: CPB Samsung John Holland JV
Time Period: 2016 – 2018
Products used: Crowd Control Barriers
Quantity: 1095 Barriers
The Project
A joint venture comprising CPB, Samsung and John Holland are constructing the Westconnex M4 East tunnels. The M4 tunnels will link Sydney's west and southwest with the city, airport and port precinct in more than 30 kilometres of continuous motorway.
In 2016, surface work commenced constructing the Concord Interchange. This mainly revolved around constructing the tunnel, access ramps and portals. During construction, workers were building in close proximity to the general public and the project managers needed an effective perimeter fencing solution. A similar requirement was noted for the Haberfield interchange site.
In light of this, traffic control, detour signage and pedestrian management tools needed to be put in place to ensure the site was safe for motorists, residents and workers. The project managers required a simple and lightweight barrier that could be easily moved as the project changed and progressed.
The Solution
Fortress Fencing supplied 2,518 metres of Crowd Control Barriers between August 2016 and May 2018 to the Concord and Haberfield Interchange sites. They were used as an effective barrier for pedestrian traffic ways, zoning off unsafe areas, barricading off excavators, bulldozers and heavy machinery and controlling car parking around the site office.
Our lightweight Crowd Control Barriers feature double interlocking hinge points and provide excellent stability. The interlocking hinge system makes installation quick and easy, and panels are designed with removable feet that can be taken off during stacking and storing. Measuring 2.3m long, each panel is made from strong galvanized steel tube, and the barriers are designed for rapid deployment.
Project Gallery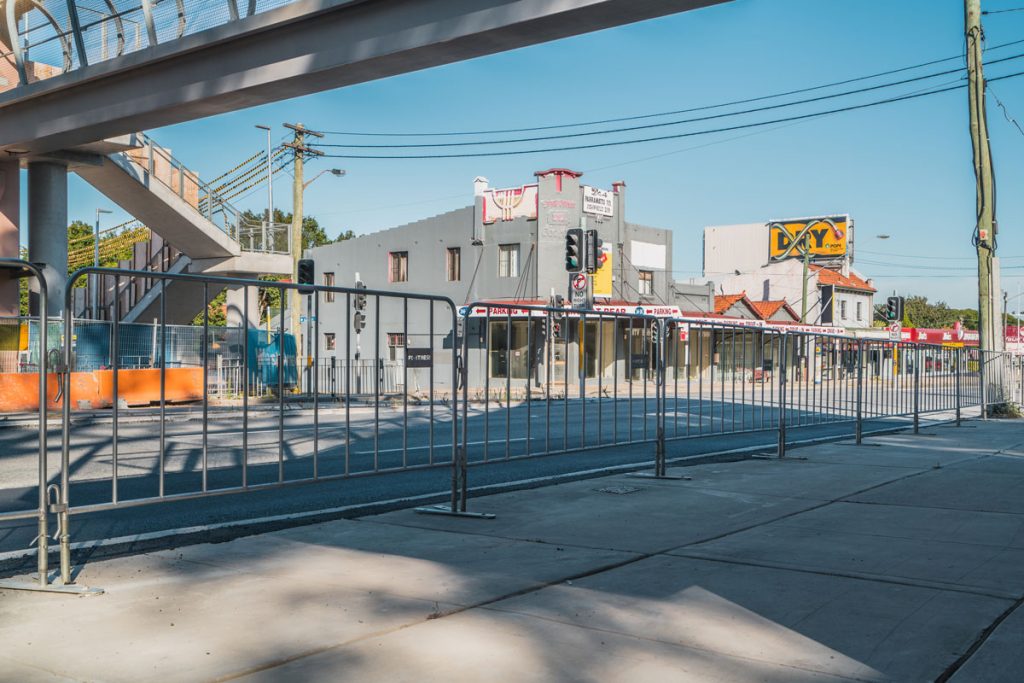 Why Fortress Fencing?
We're more than just a temporary fencing shop.
Fortress fencing works closely with you
To ensure you get the best service, most competitive rates,
and on-time delivery.