PROJECT DETAILS
Project: Level Crossing Removal Project (Bell to Moreland)
Customer: North West Program Alliance
Time period: May 2020
Products used: Trafix water filled barriers
Quantity supplied: 40 barriers
The Project
John Holland and the North West Program Alliance are delivering the $542 million Bell to Moreland contract. Part of Melbourne's major Level Crossing Removal Project, this package of works involves the removal of four level crossings on the Upfield line, and the construction of two new stations at Coburg and Moreland.
Major construction began earlier this year and is due to be completed by 2021, after an intensive construction blitz running from July to November.
With over 1000 people working around the clock in the area, the North West Program Alliance team needed to ensure that on-site employee parking was adequately catered for.
The North West Program Alliance allocated a parking zone adjacent to the worksite, but needed to ensure it was safe for workers moving through the area on foot. The parking lot required impact protection from both the rail line side and the road on the opposite side.
The Solution
Fortress Fencing supplied plastic water filled barriers for this parking area. In conjunction with the existing concrete barriers lining the road, this ensured that adequate impact protection was available on the hazardous sides of the lot.
The Trafix plastic water filled barriers provided safe delineation against the railway line. These plastic water barriers weigh 327kg when full of water, however when empty they weigh only 20kg enabling easy positioning on site.
Because they are made from rotomoulded plastic, they have no seams and therefore no weak points, making them a strong and reliable barrier. Designed for applications such as pedestrian control, car parks and work sites, these 1.2m long barriers easily join together with a moulded plastic pin mechanism.
Project Gallery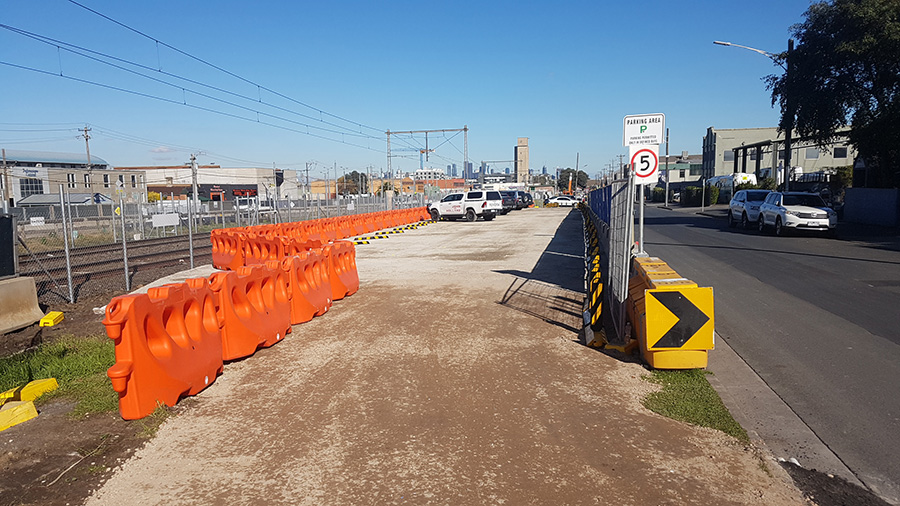 Why Fortress Fencing?
We're more than just a temporary fencing shop.
Fortress fencing works closely with you
To ensure you get the best service, most competitive rates,
and on-time delivery.