PROJECT DETAILS
Project: Level Crossing Removal Project – Werribee
Location: Werribee, VICAlcoa
Products used: Deltabloc DB80 Concrete road barriers
The Project
Work is ramping up in Werribee as the Western Program Alliance continues with making level crossings a thing of the past. This $113.8 million project, part of the Level Crossing Removal Project, will see a bridge built over the Werribee line between Tarneit Road and the Princes Highway.
Fencing and barriers are currently being erected as the site compound comes together, and an increase in heavy vehicles in the area is planned as work increases.
During May, work was scheduled to temporarily reduce the speed limit of Werribee Street and the surrounding area. The Werribee project site is being reduced to 40 kilometres per hour, a change which will likely stay in place for the next 12 months.
Despite the reduced speed limit this area still carries all the risks of a roadside construction zone.
The project team needed to block off the south side of Cottrell Street, adjacent to the current level crossing, as part of setting out the construction area. In order to make the area safe for motorists, pedestrians and workers for the duration of the project, concrete road barriers would be installed along the perimeter of the work zone.
The Challenge
The Western Program Alliance team used Fortress Fencing's Deltabloc concrete barriers from their existing fleet to form the work site perimeter. These were installed along the Cottrell Street site compound area and adjacent work zones.
The Deltabloc concrete road barriers are MASH Tested to TL-3, and are approved for use by VicRoads up to 80km/hr.
This road barrier provides reliable breakthrough prevention for heavy vehicles and soft impact behaviour for small cars. The Deltabloc can reduce the risk of a head-on collision as a result of an out of control vehicle crossing into oncoming traffic, and reduce the risk around work zones such as this. The Deltabloc DB80 units are demonstrated to meet the requirements of MASH test level TL-3.
These barriers are easy to transport, install and dismantle: as seen here they are being installed by the night crew with the aid of a Franna. The jersey shaped design keeps the barrier weighed down to allow fast truck mounted crane installation, whilst the coupling design allows for easy assembly and disassembly on site.
Deltabloc barriers are available in 2 metre, 4 metre or 6 metre lengths. If you'd like to include the Deltabloc in your next project, contact our friendly team for a quote.
Project Gallery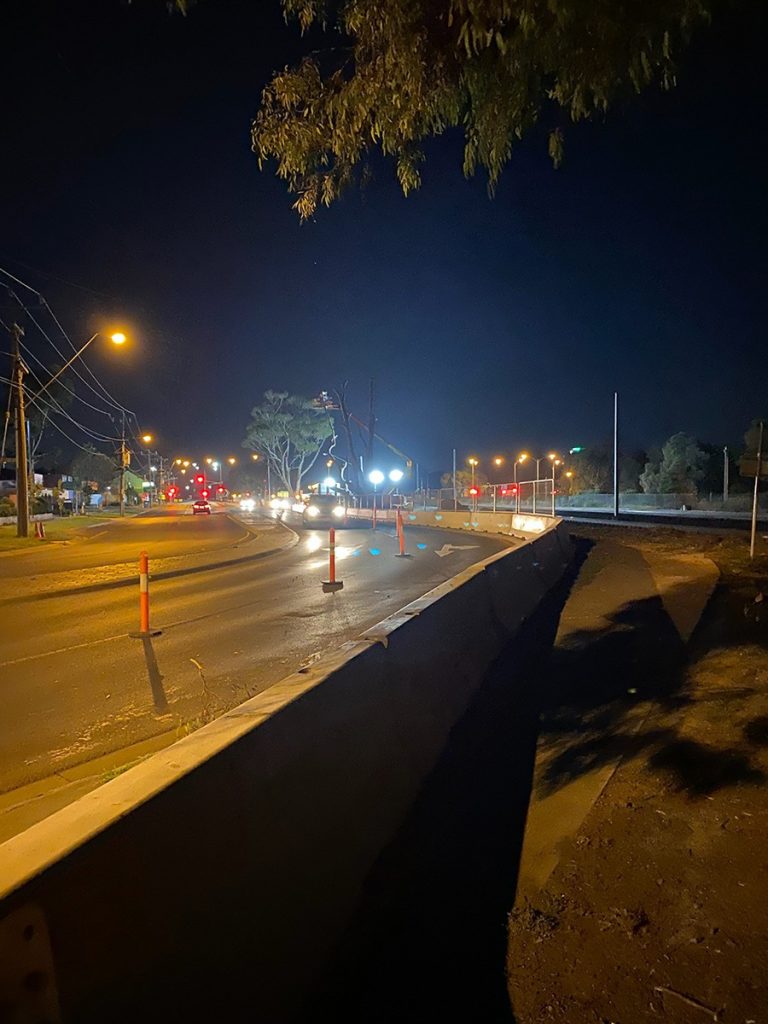 Why Fortress Fencing?
We're more than just a temporary fencing shop.
Fortress fencing works closely with you
To ensure you get the best service, most competitive rates,
and on-time delivery.