PROJECT DETAILS
Project: Bankstown Airport Carpark
Location: Bankstown, NSW
Time period: October 2020
Products used: Deltabloc DB80 crash barriers and end tapers
The Project
Bankstown Airport's 2019 draft master plan proposes that the major Western Sydney Airport that is soon to be built nearby would have significant impact on Bankstown's aviation operations in the long term.
Therefore, diversifying the services and facilities available at Bankstown will help future-proof it against overwhelming competition from the main airport. The current airport, and the area adjacent to it, is soon to be under development with plans to include 162,000sqm of building areas, a mixed-use retail precinct and potentially a hotel while providing at least 2000 non-aviation jobs.
This commercial precinct development south west of the airport will cost more than $20 million, whilst an additional 10,000sqm mixed use precinct is also on the cards. This area is slated to accommodate a range of transport logistics and distribution facilities, commercial, industrial, warehousing and aviation-related support industries in the form of a major logistics hub to meet the needs of the growing western Sydney community.
The Challenge
The ageing small commercial zone currently located to the south of the airfield required additions to the car park. This would help with additional safety prior to any early construction work taking place. The contractor needed to install strong concrete crash barriers in the concrete car park area in readiness for early construction works in the future.
The Solution
The contractor sourced a series of Deltabloc DB80 concrete crash barriers from Fortress Fencing. These barriers are an ideal car park barrier for areas where cars are moving at lower speeds. Although the barriers are MASH Tested to TL-3, and able to withstand impacts at speeds of up to 100km/hr, they are also perfectly suited to slower speed impacts in areas such as construction carparks.
Deltabloc DB80 concrete crash barriers are available in 2, 4 or 6 metre lengths. In this project tapered terminal ends have also been used, providing a safer finish.
The current occupants of the commercial centre will benefit from safer parking in the short term until early construction begins.
Project Gallery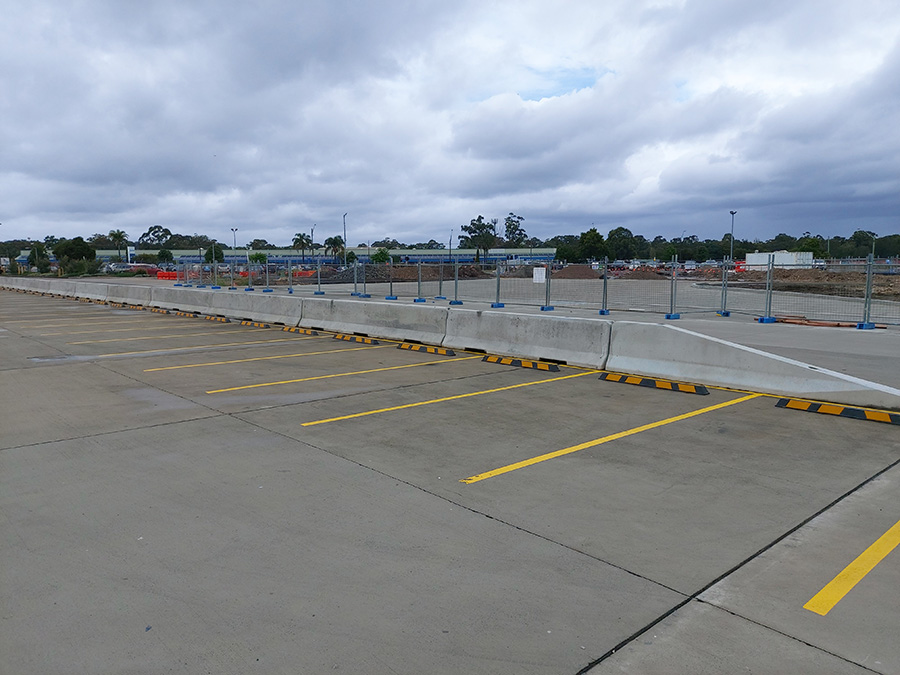 Why Fortress Fencing?
We're more than just a temporary fencing shop.
Fortress fencing works closely with you
To ensure you get the best service, most competitive rates,
and on-time delivery.