PROJECT DETAILS
Project: Waste Facility Expansion
Customer: Cornerstone Civil for Suez Wetherill Park
Location: Wetherill Park, NSW
Time period: Early 2020
Products used and Length: DB80 Precast Concrete Safety Barriers / 68 metres
The Project
Suez Resource Recovery Facility in Sydney's Wetherill Park has recently been remodelled, more than doubling its capacity to manage and process waste. The expansion of the site included the construction of surrounding infrastructure, additional hardstand areas and upgraded driveways to ensure the improved flow of waste trucks and other vehicles at the site.
After entry and exit ramps and additional truck and trailer parking were constructed, the contractor needed to ensure that a concrete safety barrier was installed to protect pedestrian areas, pathways and structures from the possibility of a low-speed heavy vehicle impact.
The Solution
Fortress Fencing supplied Deltabloc DB80 barriers to local contractors Cornerstone Civil. A combination of 2 metre and 6 metre long barriers was specified in order to accommodate the curved profile of the driveway. A 4 metre long tapered end unit completed the installation.
When used on roads in traffic situations, the Deltabloc concrete safety barriers are typically free-standing and are not bolted to the ground to comply with safety requirements. This application, however, did not carry the exacting requirements of a traffic installation. For this reason, ground plates could be fitted to further stabilise the barriers, effectively locking them to the pavement.
As this was a bolt-down application, the install team from local firm Icombined 360 ensured that after positioning the barriers, a total of 92 bolt down ground plates were fitted.
For additional safety, Suez chose to install anti-gawk panels on top of the barriers. These anti-climb privacy and safety screens are made from stainless steel mesh combined with custom made posts that fit into the DB80 barriers.
About the Deltabloc Concrete Safety Barriers
With a patented Deltabloc coupling system, the DB80 allows a slight tilting of the impact energy in case of a heavy impact. Elastomer bearings between the single barriers ensure controlled damping of peak loads. This guarantees reliable breakthrough prevention for heavy vehicles and soft impact behaviour for small cars. Approved for road use up to 100km/hr in NSW and VIC and 80km/hr in QLD, the Deltabloc DB80 concrete jersey barrier is designed to reduce the risk of a head-on collision as a result of an out of control vehicle crossing over the median strip into oncoming traffic.
The Deltabloc also meets the requirements of MASH test level TL-3. Deltabloc technology has been optimised in more than 130 full-scale crash tests, allowing Deltabloc DB80 barriers to deliver the best impact severity results available.
Not just for road applications, the Deltabloc is often used in a wide range of other applications including construction, mining, large industrial parks, carparks, and protection of public spaces and pedestrian areas.
A range of different anti-gawk screen options are available including straight and angled panels with different mounting methods.
Project Gallery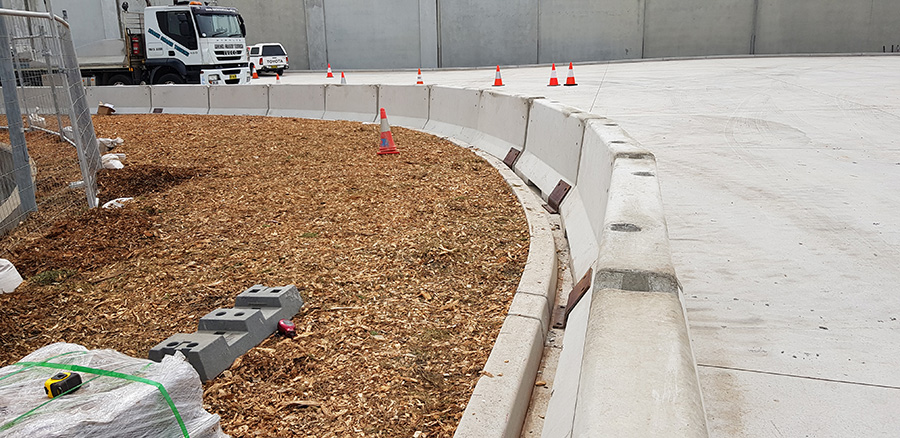 Why Fortress Fencing?
We're more than just a temporary fencing shop.
Fortress fencing works closely with you
To ensure you get the best service, most competitive rates,
and on-time delivery.