Crowd control fences or barriers are a simple, cheap and effective solution for keeping people in designated areas and out of harm's way. They are great for worksite safety, changed pedestrian routes during road works, event management and creating temporary pathways.
Although they are often used as a temporary solution and can be hired for short periods if necessary, buying crowd control barriers ensures better control over the safety and security of your site, event or workplace. Being very affordable, it can often work out cheaper to simply buy barriers rather than hire. This results in you owning long term asset, plus you don't have to worry about the hassles that are part and parcel of fencing hire.
How do you know which crowd control fence to buy?
Crowd control barriers are a simple and affordable safety precaution that can be purchased, delivered, set up and packed away quickly and efficiently. But how do you know which barriers to buy?
When you buy a crowd control fence, you want it to last as long as possible. Despite the fence panels being subject to tough work environments, heavy-duty use, and repeated set up and pack down, if you have purchased your barriers as opposed to hiring, you'll likely be using a better quality product that is in better condition.
Therefore, it's wise to invest in quality barriers that will stand the test of time, meaning you can use them over and over at different projects, events or sites.
To make it easy to choose which ones to buy, here is our list of top things to look out for when buying crowd control barriers for your next project.
First: make sure you get the right barrier for the job
Crowd control barriers are a simple, low, clip-together metal barrier designed for minimising human interaction with hazards, or for channelling people in the desired direction. These barriers are not a complete security measure: they are not a substitute for temporary site fencing, which is a high fence that is difficult to breach. Rather, crowd barriers are best for situations where pedestrians are unlikely to jump a fence or ignore the barrier guidance.
For security, vandalism and critical safety risk management zones, it may be better to invest in a temporary site fencing solution rather than simple crowd control barriers.
For small or less risky hazards, say a shallow pit or a broken footpath, or even for indoor applications, crowd control barriers can be an effective, cheap solution. They are also ideal for cordoning off plant and equipment that is not in use within a work site that is already fenced around the perimeter. This is primarily so that workers and inducted people on site don't encroach in particular areas.
Lightweight and easy to handle
For projects where workers are repeatedly moving, loading, installing and taking down barriers, the weight should be a consideration.
When people are stacking crowd control barriers onto a truck for transport, there's a potential risk of sprains and strains if the items are heavy and unwieldy.
Crowd control barriers with light, easy to handle frames offer a good safeguard against possible injury.
Quality Welds
When you buy crowd control barriers, you want to make sure they are strong enough to stand up to repeated use, and that the joins are unlikely to break. Welded steel barriers are tough and heavy duty and if you look for quality welds, the barriers will stand up to the rigours of heavy site use.
Barriers with galvanised coating
Choosing a crowd control fence with a galvanized finish means that the steel is safeguarded against corrosion and rust. The galvanisation process adds strength by coating the steel meaning that weak points are less likely to occur. Another option is a powder-coated finish which also offers additional protection against corrosion and rust.
Easy to set up and pack away
Often crowd control fencing is used in large quantities, with many panels linked together.
Even if you are using a small number of panels, you want your fence to be quick and easy to set up. A double interlocking pin system makes it easy to slot one barrier into the next, to form continuous runs of fencing.
Removable feet that don't present a trip hazard
Many types of crowd control fences come with removable feet so that they are easy to lay flat both for transport and for storage when not in use. However, it's good to check that the feet are very low profile, as otherwise they can present a trip hazard. Barriers with fixed or angled feet can prove to be a trip hazard for workers or pedestrians.
Photo Gallery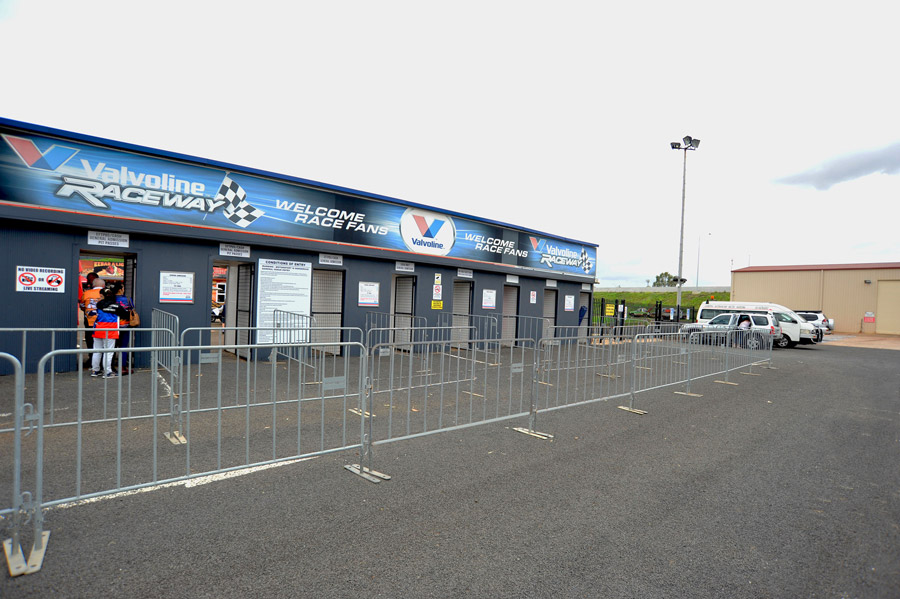 Why Fortress Fencing?
We're more than just a temporary fencing shop.
Fortress fencing works closely with you
To ensure you get the best service, most competitive rates,
and on-time delivery.