Make sure your barrier is approved for road use in Victoria
For contractors working on road projects in Victoria, it's critical to ensure your team are protected from potential vehicle hazards whilst you're working in the road corridor. Working alongside moving traffic is always a high-risk activity and therefore, it's important to make sure your barrier is up to the task.
Aside from keeping your workers safe, you need to ensure you're meeting other compliance obligations too. Any contractors working on the declared road network in Victoria need to ensure they're using a product that is in line with the VicRoads standards for safety barriers.
Certain crash barriers have been tested and proven to meet the VicRoads criteria, so for Victorian civil contractors, roadwork crews and anyone working alongside the road network, it's important to make sure you buy safety barriers that have this tick of approval.
Which barriers are accepted safety barrier products for work on the VicRoads network?
Although the VicRoads documentation says that safety barrier selection is "an intricate process that requires engineering judgement and risk assessment", it does have a number of temporary safety barriers that have been pre-assessed and approved to suit most applications.
The VicRoads Road Design Note 06-04 lists the safety barrier products that VicRoads has assessed and considers acceptable for use on the declared road network.
For roads that are not on the declared road network, like minor local roads, the Council responsible for that particular area can offer additional guidance. In some cases other barriers are acceptable, but if you're working on most main roads you'll need to follow the Vic Roads criteria.
Armorzone MASH TL2 Barrier
Crash tested to MASH TL1 and TL2, the Armorzone offers both 50km/hr and 70km/hr work zone protection. To comply with VicRoads temporary barrier specifications, a minimum length of 48 metres is required.
This high-performance barrier can be used for both median and roadside applications, in straight runs or with slight curves. This flexibility means contractors can set up their barriers in a range of different configurations, around obstructions and curves.
Each strong, UV stabilised polyethylene module is designed to absorb nuisance impacts and will deflect heavy impacts reliably to ensure a safe work site. Yellow terminal end treatments are also available to match, completing the system and making it approved for use on main roads across Melbourne and the rest of Victoria's road network.
The Armorzone MASH barrier has been designed with easy setup and pack down in mind. A galvanised joining pin makes it easy to join the barriers together, resulting in fast deployment. This means it can be set up quickly and easily on site to keep your job on track. Plus, its freight-friendly design helps to reduce shipping costs.
The Armorzone longitudinal barrier weighs 56kg empty, meaning it can be handled by two people on site. However, after filling with water, it weighs a hefty 496kg. Our customers typically use a water cart or tanker to fill the barriers due to the large volume of water needed.
Note that if your Armorzone barriers are subject to an impact during the course of your project, the damaged components must be replaced – repaired components must not be used as they can present a safety hazard.
Lo-Ro TL2 Water Cable Barrier
New to the Australian market, the Lo-Ro water cable barrier is approved to MASH TL2 and designed for applications where low deflection is critical.
Compared to other barriers it has the best TL-2 deflection, shorter clear zones and shorter minimum length, saving you money and installation time whilst still providing excellent protection.
Designed and approved for speed zones up to 70km/hr, it provides good protection when installed on a range of pavement surfaces, from finished concrete surfaces to unsealed compacted ground. Plus, the Lo-Ro has multi-speed deflection having successfully been tested to MASH TL1.
The Lo-Ro barrier is completely repairable in every location of the barrier, unlike others on the market. This makes the Lo-Ro barrier an economical choice for locations where light knocks and bumps are likely.
Not sure which barrier to choose, what the differences are or how to ensure you've got all the boxes ticked for your project? We're here to help! The team at Fortress Fencing can offer honest and unbiased advice on how to choose the best barrier for your Victorian roadwork projects.
Our Melbourne warehouse is located in Laverton North and we stock a large quantity of water filled barriers for different purposes. We can offer advice, provide an itemised quote with freight and other options, and deliver quickly and efficiently to sites across the state.
Photo Gallery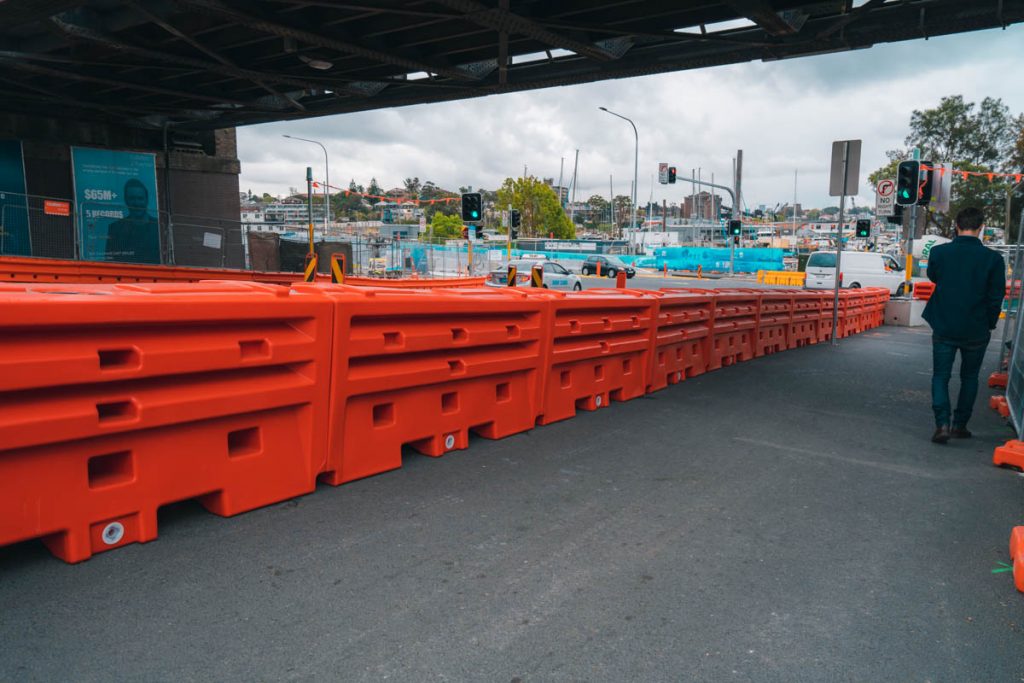 Why Fortress Fencing?
We're more than just a temporary fencing shop.
Fortress fencing works closely with you
To ensure you get the best service, most competitive rates,
and on-time delivery.