Get guaranteed safety on site with pedestrian separation barriers
Pedestrian separation barriers are just one of the many ways you can bump up safety efforts on your Perth work site.
These simple steel interlocking pedestrian barriers are perfect for keeping people and equipment separate, ensuring that you can keep people and slow moving vehicles apart.
Why you need pedestrian barriers when setting up your site
Pedestrian separation on site is a key consideration for WA contractors who want to keep their team safe.
By using pedestrian safety barriers around areas like lunchrooms, site offices, site sheds and storage areas, it is easy to achieve a safer site by physically separating vehicular and walking paths.
Pedestrian separation barriers are also ideal for use indoors, either in large covered site areas, in tunnels, interior fitout and construction and in warehouses. Because they are low profile and not overly obtrusive, they work well in indoor situations as well as outdoors.
Many of our WA customers are using our steel pedestrian barriers to surround equipment, block off stockpiles, create bays for storage, and of course, for creating pathways.
How to link pedestrian barriers together
These sturdy freestanding barrier panels are very easy to clip together with an interlocking pin and ring system. This means there are no loose parts to keep track of, and one panel is easily slipped into the next so that the pins slot into the rings. This also means that each panel can pivot, so that you can create curves and corners with ease.
The feet are also removable for flat pack storage and efficient transport to different sites. This gives the contractor a space-saving benefit when compared to more bulky water filled and blow moulded plastic type fencing.
Using pedestrian barriers in construction site carparks
These steel pedestrian barriers are a perfect solution for creating pathways in car parks as well. When coupled with a low speed traffic rated barrier like the Trafix 2000 or the Waterwall, you can easily create temporary parking zones for staff.
Position the pedestrian separation barriers around the edge of the site car park so that employees and visitors are not tempted to take a shortcut through the car park. Providing a simple visual barricade like this is a simple yet powerful way to channel staff and other pedestrians along specific pathways.
A strong visual reminder: Fortress Hi-Vis orange pedestrian barriers
For an even more striking effect, our Fortress Fencing pedestrian barriers are available in hi-vis orange powder coat as well as plain hot dip galvanised steel.
The high vis coating provides a strong visual indicator to follow the fencing along designated pathways. The safety orange fencing also stands out on site, ensuring the panels can be easily seen.
An additional safety feature of these barriers is the low profile feet, which do not protrude into walkways and create a trip hazard. Because the feet are only minimally raised, they don't present a tripping hazard to your team.
Get the best pedestrian barriers at great prices
Our customers have typically used the Fortress crowd control barriers for creating pedestrian delineation. Why? Because they are lightweight, easy to set up and cost-effective!
Whilst getting the cheapest barrier shouldn't be the goal, our Fortress Fencing crowd control barriers are very affordable, which is a key consideration when you are setting up significant runs of fencing. When you need big quantities of barriers – hundreds or more – finding an affordable solution becomes a high priority.
We've typically got thousands of crowd control barriers in our Welshpool warehouse, so if you need a big quantity and you need it fast – Fortress Fencing can help!
To get a quote on pedestrian separation barricades for your projects in Perth & regional Western Australia, get in touch with our Welshpool sales team or shop our online store.
Gallery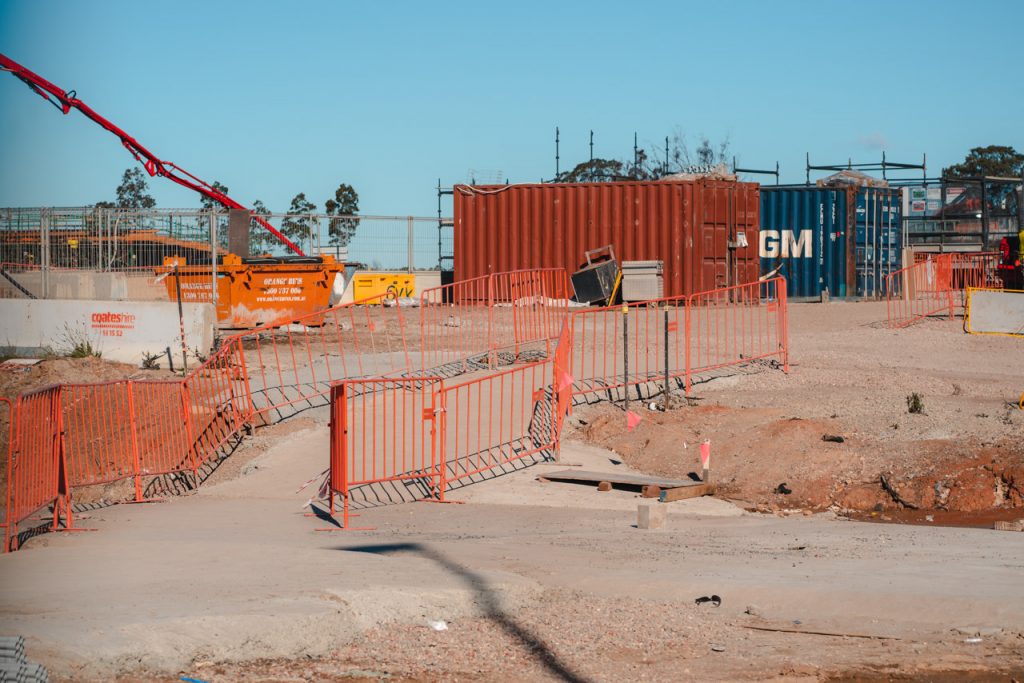 Why Fortress Fencing?
We're more than just a temporary fencing shop.
Fortress fencing works closely with you
To ensure you get the best service, most competitive rates,
and on-time delivery.