TMR APPROVED CONCRETE BARRIERS FOR QUEENSLAND ROADS UP TO 80 KM/HR
The DeltaBloc DB80 concrete F-Type barriers are a semi-rigid longitudinal barrier. Their proven safe, effective deflection of vehicles means they're approved for 80 km/hr roads in Queensland.
The DB80 is an F-shape steel reinforced concrete temporary barrier. The range comprises 2, 4 or 6-metre unit lengths with K150 tension bar coupling system and joint rotation limiting wedges (or butt inserts). It is end anchored but has no intermediate ground attachment. Therefore, this means it fully meets the criteria laid out by the QLD Department of Transport & Main Roads.
At only 520kg per metre, Deltabloc DB80 barriers are easy and efficient to transport and install without compromising quality or safety. Manufactured in 6m, 4m and 2m lengths, the classic jersey shape design keeps the barrier weighed down. This bottom heavy design allows fast truck mounted crane installation. Additionally, the distinctive coupling design allows for easy assembly and disassembly on site.

The DB80 precast Type F barrier is Department of Transport & Main Roads Approved for use on state-controlled roads in Queensland with a speed limit of 80km/hr or less.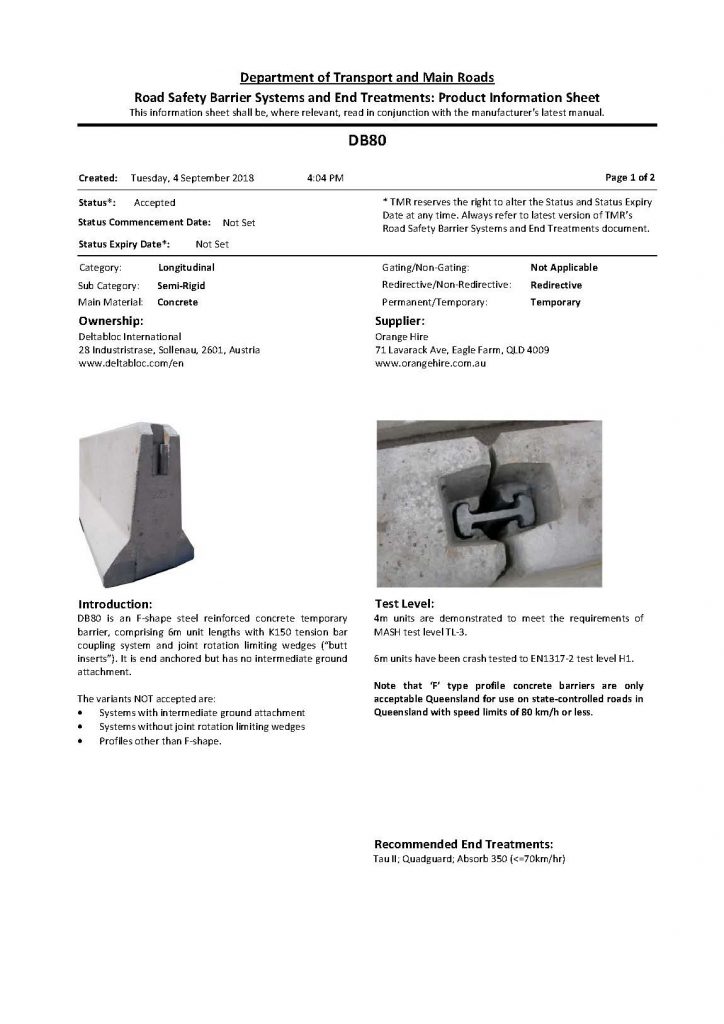 DB80 MASH Approved Concrete Barriers
DeltaBloc barriers have been thoroughly tested to NCHRP350 and have long been approved for 80km/hr zones on Queensland roads. However more recently, the MASH test standards have come to the fore as the new benchmark for Australian roads.
With the Austroads transition to MASH crash tested devices now in play as of January 2019, competitors will have to move fast to ensure their products can keep up with the changing requirements of the industry. Both in Queensland and across the rest of Australia, any products being submitted to Austroads for approval must now be submitted in line with MASH guidelines. Fortress Fencing is ahead of the curve with new MASH and Austroads approvals for the DB80 barriers already in place.

DB80 barriers are currently one of the few barriers on the market to already be tested and approved to Austroads' new MASH standards.
WHAT CHANGED? NCHRP 350 VS MASH TESTING
MASH stands for Manual for Assessing Safety Hardware. It specifies tests for roadside hardware devices such as concrete barriers and includes 6 unique test levels for longitudinal barriers. It also contains test matrices for crash cushions and work zone devices.
There are also up to six test levels in the NCHRP 350. In general, the lower test levels are applicable for evaluating features to be used on lower service level roadways and certain types of work zones while the higher test levels are applicable for evaluating features to be used on higher service level roadways or at locations that demand a special, high-performance safety feature. Test levels 4 through 6 are applicable to longitudinal barriers only.
Although both systems originated in the US, the MASH system is generally accepted to be more current, as NCHRP350 was developed in the early nineties. The size and speed of cars and trucks has increased significantly over the years, and the current MASH guidelines, revised in 2016, more accurately reflect the vehicles that populate today's roads, and therefore the impacts and damage that they can sustain and cause.
The governing body Austroads has recently required that all barrier devices submitted for approval must be in accordance with AASHTO's MASH guidelines or an equivalent rating to MASH in accordance with AS/NZS3845 Parts 1 and 2.
WHAT CHANGED? NCHRP 350 VS MASH TESTING
The Deltabloc DB80 units are demonstrated to meet the requirements of MASH test level TL-3. This means a 2270kg Ute travelling at 100km/hr impacting the barrier at an angle of 25 degrees achieves a dynamic deflection of 1.44 metres.
Elastomer bearings between the single barriers ensure controlled damping of peak loads. This guarantees reliable breakthrough prevention for heavy vehicles and soft impact behaviour for small passenger cars.
Deltabloc technology has been optimised in more than 130 full-scale crash tests, allowing Deltabloc DB80 barriers to deliver the best impact severity results available.
Concrete Barriers for Sale in Queensland
Our specialist team of concrete and safety barrier experts can provide all the documentation you require including test reports and approvals for DB80 concrete barriers. Get in touch with our team today.
Photo Gallery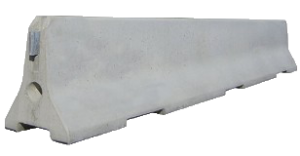 Why Fortress Fencing?
We're more than just a temporary fencing shop.
Fortress fencing works closely with you
To ensure you get the best service, most competitive rates,
and on-time delivery.