MASH Compliant Concrete Crash Barriers
By the 31st December 2020, any temporary safety barriers used on Australian roads need to comply with a set of testing criteria known as MASH. This transition from the existing test criteria to new MASH standards has been going on since 2017 and is soon to become mandatory at the end of this year.
If you're looking to buy a temporary concrete barrier, it's critical to understand MASH guidelines. Being fully informed before buying barriers will ensure that you're not purchasing a product that's about to become obsolete, leaving you with big chunks of concrete that you can't use and a big hole in your bank balance.
Read on to find out more about why MASH compliant concrete barriers are the safest and most effective way to protect your workers from vehicle accidents when working near main roads.
Where can I buy a MASH compliant concrete barrier?
Fortress Fencing supplies a MASH compliant concrete barrier known as the Deltabloc, which has achieved a MASH test level TL3.
This means it has passed the full scale crash tests with a 2270kg ute and deemed to be a safe option for speed zones up to 100km/hr in most parts of Australia (80km/hr in Queensland).
What is MASH testing?
In order to get a MASH test level rating, concrete jersey barriers are tested in real-life, full-scale tests. The barriers are installed in a controlled environment and then a car or truck veers into them at high speed. The behaviour of the barriers at the moment of impact is scrutinised and reviewed in different ways, and the barrier is then given a MASH test level rating.
For example, MASH compliant concrete barriers available from Fortress Fencing have a test level of TL-3. This means they have been hit with a 2270kg ute travelling at 100km/hr, and ramming into the barrier at an angle of 25 degrees.
The movement and performance of the barrier and how it redirects the test car results in the Deltabloc barriers gaining a MASH rating of TL-3. This means they can be used in areas with posted speed limits up to 100km/hr in most states (80km/hr in Queensland).
The angle of deflection (which means how and where the car is redirected) as well as how much the whole barrier shifts sideways, help to determine this final test result.
Why is MASH testing important?
Austroads reports that crashes where a vehicle runs off the road are one of the most common types of accidents.
Due to this and other factors, road barriers must be rigorously tested to ensure they will perform in real-life crash situations. This is so that run-off-road accidents cause the least possible damage and injury to the driver and the surrounding road infrastructure.
The shape, weight and construction of a concrete barrier are all specifically designed to redirects out of control vehicles in a very specific way.
MASH compliant concrete barriers are designed to perform in a predictable manner by preventing vehicles from 'vaulting' and leaving the roadway in an accident. Rather than careening off the road and into the work zone, vehicles are redirected in line with the flow of traffic, which creates a safer environment for both motorists and anyone working in the road corridor.
How do MASH compliant concrete barriers make a work zone safer?
When crash barriers are impacted they shift sideways, absorbing and dissipating the energy of an impact.
This is what helps to determine the 'working width' of the barrier. Working width is how much space needs to be maintained between the traffic facing side of the barrier, and your crew in the work zone.
Keeping your crew safe should be your number one priority, so ensure you're using a concrete barrier that is up to spec. A MASH concrete barrier will ensure better redirection of errant vehicles, bringing them to a safe stop with minimal destructive force.
When did MASH compliant concrete barriers become the gold standard?
Australia's peak representative body for roads, Austroads, has been working through a transition process to bring commonly used safety barriers into line with the current suite of MASH guidelines for the past few years. This transition period is ending soon at the end of 2020.
After this date, all concrete barriers used on Australian roads must be MASH compliant.
What were concrete barriers tested to before?
A bit of history: the Australian/New Zealand Standard AS/NZS 3845 was first launched in '99 and up until recently has used the US-based guidelines to test barriers, known as NCHRP350. These guidelines were developed by the American National Highway Authority as the basis for testing safety barriers and other devices such as crash cushions.
As time passed and vehicles tended to get bigger and heavier, it was determined that an updated testing method was required that was more in line with the kind of cars using Australian roads.
In 2017, updated parts of the Australian Standard recognised the introduction of the MASH guidelines. These were developed, like MASH, in the US by the American Association of State Highway and Transportation Officials (AASHTO).
These MASH testing guidelines use slightly different criteria to deliver a result or 'test level' that is more in line with the impact behaviour of modern vehicles.
The Fortress Fencing MASH compliant concrete barrier – the Deltabloc DB80 – has achieved MASH Test Level TL3.
To find out more about whether the Deltabloc DB80 is the right choice for your project, get in touch with our barrier team today.
Gallery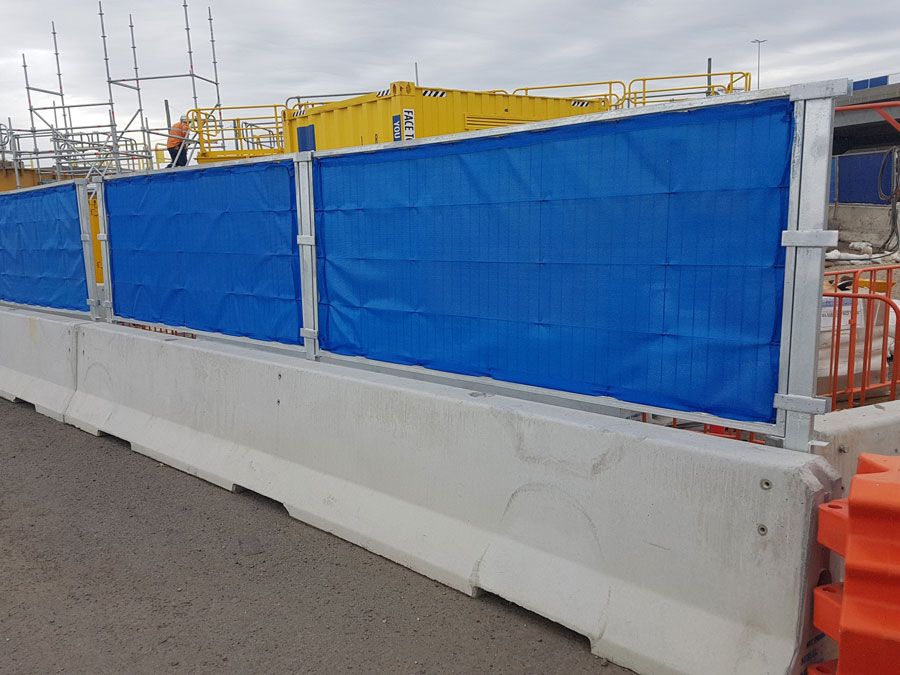 Why Fortress Fencing?
We're more than just a temporary fencing shop.
Fortress fencing works closely with you
To ensure you get the best service, most competitive rates,
and on-time delivery.