Temporary Crowd Control Barriers for Festivals and Events
Event barriers are ideal for all kinds of events. These simple and lightweight fencing panels are used for directing pedestrian traffic by creating walkways and thoroughfares. They are ideal for use at music festivals, community events, markets, sports events and other public events that draw crowds of people.
If you are staging an event, it's likely that you will want to cordon off certain areas, and direct foot traffic in other areas. This is where the event fencing comes in: you will need a simple yet effective way to keep crowds in designated areas and ensure any hazards or private areas are blocked off.
Lightweight yet stable
Made from galvanized tubular steel, event barriers are strong yet lightweight. They fit together using a simple welded pin & lock system, enabling you to create walkways with long runs of barriers, fence off a stage, block no-go areas and block off trip hazards or employee-only areas.
The barriers are designed for rapid deployment. The feet of each barrier are removable, enabling you to simply slip them into the barrier to set it up. This means you can get your event barriers set up along walkways quickly and easily, making bump in and bump out a breeze.
The low profile yet stable feet mean that the event barriers can be positioned on soft ground such as grass, gravel or dirt paths, and still remain stable. Because the feet are quite flat they minimize trip hazards, helping you comply with your WHS obligations.
Each event barrier is 2.3 metres long, and they stack easily for transport to and from your event.
Benefits of buying Crowd Control Barriers
It's usually more cost effective to buy event barriers rather than hire them, especially if you have a number of events planned or are in the event management industry.
Install your fencing when & where you need it
Buying barriers means one simple one-off cost, so you know exactly what you're paying for
Damaged or lost panels incur fees when you hire
Hire costs can quickly add up – often it's cheaper to buy event fencing that you can use again and again
Turn your barriers into advertising space
The 1.1 metre high barriers also lend themselves to being livened up with fabric mesh banners and advertising. These lightweight mesh signs slip over the banners like a glove, presenting a great opportunity for branding and advertising.
Event barriers with mesh covers also add a degree of privacy and help to demarcate different areas or zones in your festival or event. They can be printed with wayfinding signage, directing event-goers to bathrooms or cafes.
Or, they can be used as an artistic canvas, giving you a large format area to add to your event with artwork, patterns, catch phrases or promoting sponsors or brands.
Photo Gallery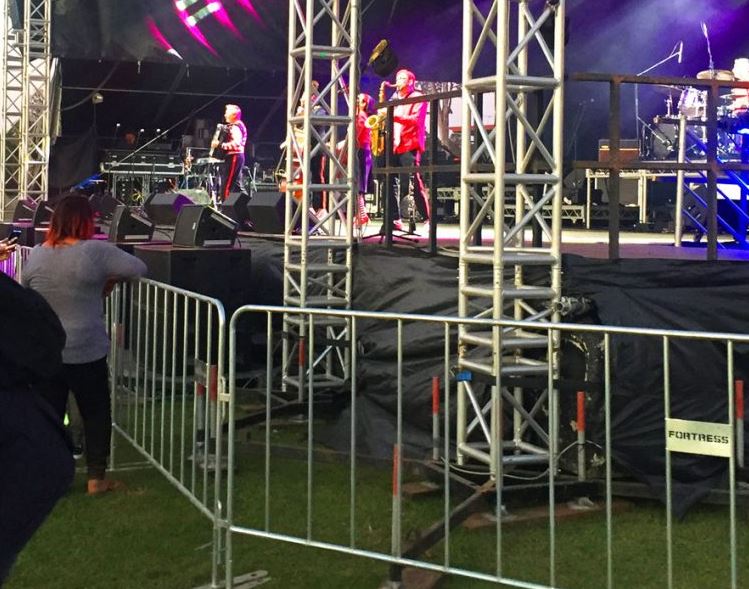 Why Fortress Fencing?
We're more than just a temporary fencing shop.
Fortress fencing works closely with you
To ensure you get the best service, most competitive rates,
and on-time delivery.