WHY DO CONCRETE JERSEY BARRIERS NEED TO BE TESTED AND APPROVED?
Concrete barriers play a crucial role in reducing the risk of accidents on Australian roads. However, finding the right barrier can be challenging due to technical jargon and testing requirements.
In this article, we clarify the test methods, ratings, and approvals you need to know when researching concrete jersey barriers. Rigorous testing ensures that barriers are safe, effective, and will perform as intended in a crash situation.
In addition to meeting the necessary safety and testing standards, it's important to consider other factors when choosing a concrete barrier.
These factors include the intended application, the level of traffic expected, and the location of the barrier. For example, a barrier designed for a high-speed highway will need to be stronger and more impact-resistant than one used in a parking lot.
Similarly, a barrier used in a rural area may need to be able to withstand harsh weather conditions, while a barrier in an urban area may need to be aesthetically pleasing as well as functional. By taking all of these factors into account, you can choose a concrete barrier that not only meets safety requirements but also fits your specific needs.
TYPES OF CONCRETE CRASH BARRIER TESTING
Concrete jersey barriers are a type of longitudinal barrier. Their purpose is to deflect out of control vehicles so they continue moving along the barrier itself, as opposed to rebounding at a sharp angle into traffic.
Road barriers are tested for their ability to withstand impacts from a variety of vehicles travelling at different speeds. In simple terms, they are rated according to how much force they can absorb or deflect with minimum movement.
Although Australian Standard AS/NZS 3845 Road safety barrier systems and devices is applicable to concrete barriers, it largely borrows from the US when it comes to testing methods and approvals.
Some tests measure how severe the impact is, and the strain on passengers. How much the vehicle is redirected and how far the barrier moves out of place is also measured and categorised.

For concrete crash barriers, the following tests and ratings come into play.
TYPES OF CONCRETE CRASH BARRIER TESTING
PRECAST CONCRETE BARRIER CRASH TESTING
NCHRP 350
The USA's National Cooperative Highway Research Program (NCHRP) published a report in 1993. It covered recommended procedures for the safety performance evaluation of highway features including crash barriers and came to be known as NCHRP 350.
For many years NCHRP 350 was the go-to testing method for concrete crash barriers and other road barrier equipment. Barriers tested to NCRHP 350 are still valid and acceptable across a range of state authorities at present. However, as Austroads moves towards adopting MASH rated road barriers, state authorities are likely to follow suit.
MASH
The US Manual for Assessing Safety Hardware (MASH) offers guidelines for crash testing highway safety features and suggests evaluation criteria to assess these tests. Concrete crash barriers that pass MASH standards are considered up-to-date and meet the gold standard of criteria.
Recently, Austroads has adopted MASH testing as the best method going forward, and the organization is transitioning approvals for traffic barrier systems from existing NCHRP 350 ratings to the newer (2016) MASH standards. This move reflects the growing importance of standardized testing and evaluation methods to ensure the safety and effectiveness of highway safety features.
By adopting MASH testing, Austroads is helping to ensure that the barriers used on Australian roads meet the highest possible safety standards.
MASH TESTED VS NCHRP 350: WHAT'S THE DIFFERENCE?
Both MASH & NCHRP 350 test results rate crash barriers dependent on their ability to withstand impacts. However, it is the method of testing that differs. In simple terms, MASH uses newer and heavier vehicles that more accurately reflect those that populate today's roads.
MASH test levels are expressed as TL-1 through to TL-6, with the lower range being suitable for slow vehicles and pedestrian safety, and the higher range being suitable for fast moving and very heavy vehicles.
For example, the Deltabloc DB80 F-type concrete barrier is MASH approved to TL-3. This means it has been tested with a 2270kg ute travelling at 100km/hr impacting the barrier at an angle of 25 degrees (5 lane wide impact).
The DB80 Deltabloc MASH Approved concrete barrier offers low deflection for maximum safety. It is currently one of the few barriers on the market to already be tested and approved to Austroads' new 2019 MASH standards.
NATIONAL AND STATE REGULATIONS FOR CONCRETE JERSEY BARRIERS
Whilst all this testing is critical to ensure an effective safety barrier, ultimately each state's governing body also plays a part in whether it is fit for use in the field. State transport authorities have the final say in whether they approve concrete barriers for use on their roads.
Nationally, Austroads is the peak organisation of Australasian road agencies. Amongst other things, Austroads conducts research and publishes best practice guidelines on road barriers. These are then reviewed, customised and adopted by the state transport authorities. These include:
Roads and Maritime Services NSW
VicRoads
Department for Transport, Energy and Infrastructure, SA
Department of Transport and Main Roads, Qld
The Fortress Fencing Deltabloc DB80 concrete jersey barriers are approved for use by both Austroads and these individual state authorities.
NATIONAL AND STATE REGULATIONS FOR CONCRETE JERSEY BARRIERS
Deltabloc DB80 MASH tested road barrier
The Deltabloc DB80 concrete jersey crash barrier is RMS approved to minimise impacts from vehicles travelling up to 100km/hr in NSW & VIC, and 80km/hr in QLD.

Available in 2, 4 and 6 metre lengths, the DeltaBloc concrete jersey barrier is an excellent passive traffic safety tool.
This article is prepared as guide only. There are many other factors that need to be taken into account to determine the best concrete crash barrier for your needs. Our specialist team of concrete and safety barrier experts can provide all the documentation you require including test reports and approvals for DB80 concrete barriers. Get in touch with our concrete barrier experts today for more information.
Photo Gallery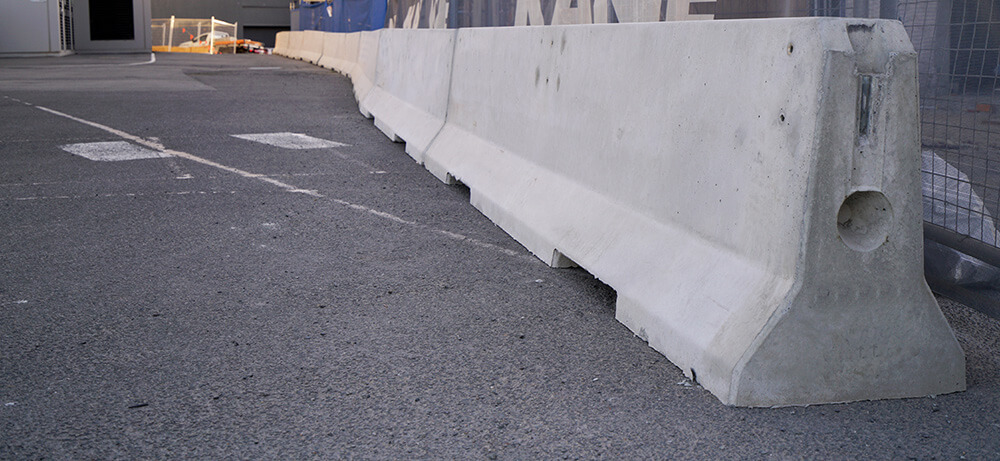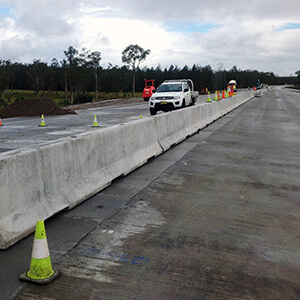 Why Fortress Fencing?
We're more than just a temporary fencing shop.
Fortress fencing works closely with you
To ensure you get the best service, most competitive rates,
and on-time delivery.