PROJECT DETAILS
Project: Rail Powerline Upgrade
Customer: Novo Rail
Location: Central, NSW
Time period: August 2019
Products used and Length: ArmorZone Barriers / 200 metres
The Project
The Novo Rail alliance has delivered over $1 billion worth of upgraded infrastructure to the rapidly growing Sydney rail network over the past 10 years. Novo Rail is currently working on a power supply upgrade program to Sydney's train network, including the Surry Hills to Central Station Feeder Upgrade.
This project will help to future proof the city's existing train infrastructure and support the new Sydney Metro lines.
A new power supply cable will be installed between the substations at Surry Hills and Central Station. This project will support future network requirements associated with the integration of Sydney Metro and the introduction of a new fleet of trains.
The work includes the installation of a new 1.2 kilometre underground cable, involving trenching and boring works under Eddy Avenue. Early works began in May 2019 with the overall project including works in the rail corridor due for completion in late 2020.
Workers have temporarily closed lanes and parking areas throughout the area adjacent to Central Station, to allow the work to be completed safely. A construction zone has been established with the help of Fortress Fencing's ArmorZone water filled barriers, fitted with anti-gawk screens and shadecloth for extra privacy.
The Solution
Fortress Fencing supplied 100 Armorzone barriers fitted with anti-gawk screens for this project, totalling 200 metres. The ArmorZone is a 2 metre long water barrier made from 100% high density stabilised polyethylene. Ideal for creating a protective barrier around work sites, this barrier is designed for use on temporary worksites and also to protect workers engaging in roadside maintenance.
Connected using a galvanized steel pin, the units are filled with up to 520 litres of water. Once full, the ArmorZone provides up to 70kph work zone barrier protection. It is easy to transport and fast to deploy: installation by two operators is effortless. The Armorzone Water Filled Barrier has been tested to meet the evaluation criteria of NCHRP 350 TL-2, and a separate model meets MASH TL-1 and TL-2.
Additionally, Fortress supplied Novo Rail with anti-gawk screens to suit the ArmorZone barriers, offering workers increased privacy and security on site. Anti-gawk screens are constructed from strong steel mesh, and each panel has a steel pin to lock it in place. To complete the privacy screening, workers installed 200 metres of blue shadecloth along the screens.
Project Gallery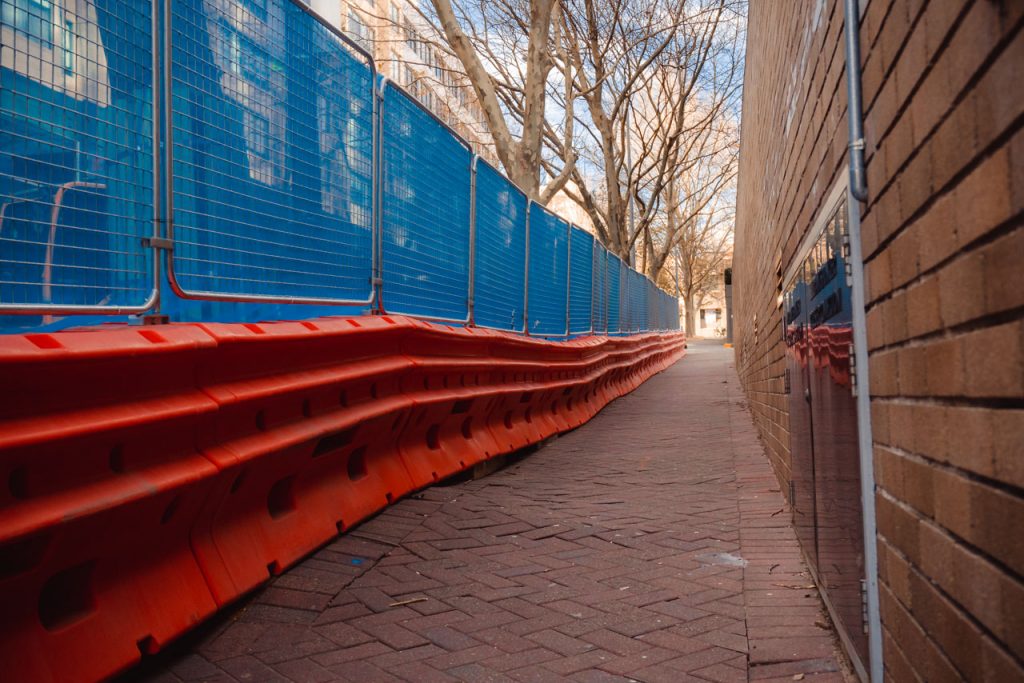 Why Fortress Fencing?
We're more than just a temporary fencing shop.
Fortress fencing works closely with you
To ensure you get the best service, most competitive rates,
and on-time delivery.