Armorzone MASH Temporary Traffic Barriers for Sydney road work sites
Working alongside fast-moving traffic is always a high-risk activity. However, often it can't be avoided when you are working on road work projects in the city. Even on smaller or shorter duration roadwork projects, safety is a key consideration that mustn't be overlooked. Whilst contractors across Sydney typically understand the risks, when it comes to managing these risks with temporary traffic barriers, there is a bit of confusion. With a range of different choices available and different ratings, it's important to ensure you are getting the right temporary traffic barriers for your project.
Why are water filled barriers a good choice?
Plastic water-filled barriers are a common choice for contractors looking to buy crash barriers. They are easy to freight, install, move, rearrange as the site needs change, and easy to empty and pack away when the project is complete. This makes water filled barriers like the Armorzone MASH a great option for temporary road works.
Our Sydney-based barrier solutions expert, Ben Lorne, is often asked which temporary traffic barriers are the best ones to buy. Ben and the Fortress Fencing team recommend a range of water filled barriers including the Lo-Ro and Armorzone along with a selection of pedestrian barriers, depending on the speed and site requirements of your project. This blog focusses on one of the top options that Ben recommends to customers looking for temporary traffic barriers – the Armorzone MASH. Ben explains:
"We recommend the Armorzone because it ticks all the boxes: it's MASH TL2 Tested providing up to 70km/hr work zone protection, it's quick and easy to install, and it's well priced."
Durability, versatility, price, safety specs and ease of installation are all important considerations before making a decision on which temporary traffic barrier is best for your project.
"The Armorzone MASH is one of Australia's most commonly used traffic rated road barriers," says Ben.
"Because it is tested to MASH TL-1 and TL-2, it provides up to 70 kph work zone barrier protection. Additionally, the Armorzone is tested and proven to assist with vehicle control, offering low deflection."
Deflection is the term used to describe how vehicles are prevented from crossing the midline or leaving the roadway. They do this by absorbing the impact of out of control vehicles and safely redirecting them along the length of the barrier in order to cause the least possible damage.
So, in the event of an accident or impact with a vehicle, the car will be redirected in a controlled manner in line with the flow of traffic. Although that might sound like a recipe for disaster, it is much better than the alternative, which is if a car were to vault the barrier and become a projectile, crashing into the work zone.
Worse, if the vehicle was not deflected into traffic and instead came to an abrupt halt when hitting the barrier, it would be much more likely that the driver and passengers could suffer critical injuries from the impact.
Deflection into the regular flow of traffic is generally accepted as the safer option for all involved, and that is why traffic barriers tested and approved for use on Sydney's roads must typically offer some kind of predictable deflection behaviour.
"Ensuring you are using a reliable, MASH tested barrier will go a long way to protecting your team, by way of providing greater containment to safely redirect errant vehicles and bring them to a safe stop," adds Ben.
The Armorzone is MASH TL1 and TL2 tested, offering test results of 2.1 metres deflection at 50km/hr, and 4.1 metres deflection at 70 km/hr.
Where else can I use the Armorzone MASH?
A versatile addition to your fleet of equipment, the Armorzone temporary barriers are ideal for a range of other applications, not just roadworks.
Cordoning off areas on construction sites, creating walkways within infrastructure projects and surrounding hazards (like existing power poles or electrical boxes) are just some of the ways our customers currently use the Armorzone.
Light and portable when empty, the Armorzone is easy to manoeuvre, weighing just 56kg. When filled, the weight increases to a hefty 496kg, making a sturdy temporary barrier that is ideal for a range of industrial, commercial and building applications. The freight-friendly design also helps to reduce shipping costs.
The Armorzone's design not only makes it easy to install and move on site, but also gives it considerable strength, making it a solution fit for many applications.
Photo Gallery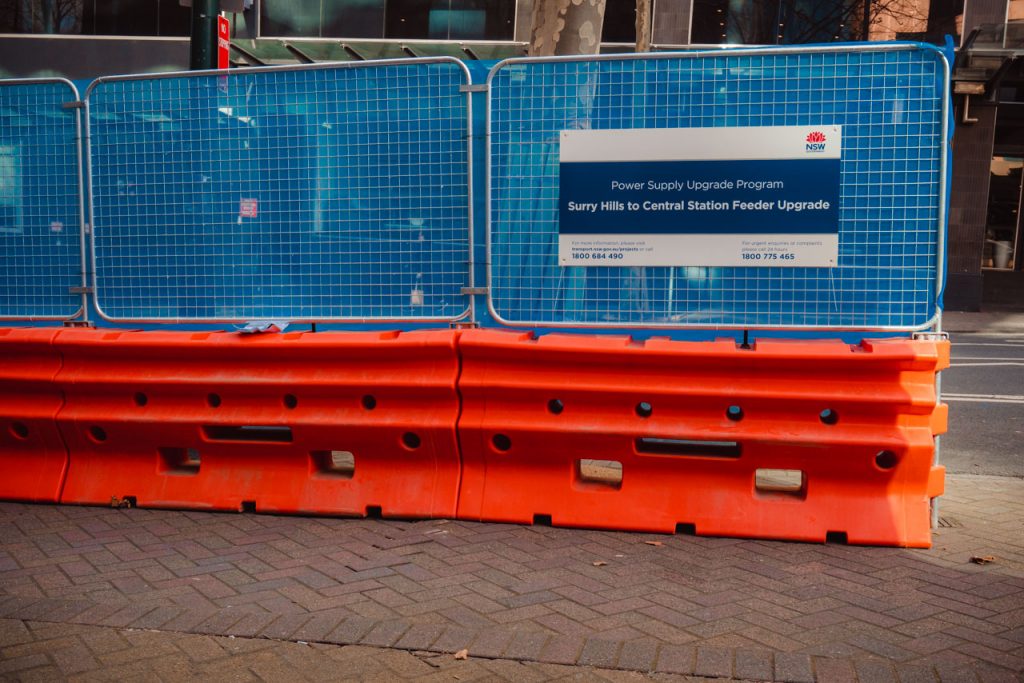 Why Fortress Fencing?
We're more than just a temporary fencing shop.
Fortress fencing works closely with you
To ensure you get the best service, most competitive rates,
and on-time delivery.